Introducing a New Baby to Your Dog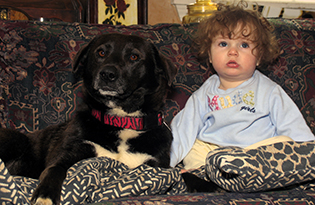 Your furry four-legged best pal may rule the roost for now, so it may come as a shock when your new baby makes her debut. Ensuring that your pet is well trained and properly prepared for baby's arrival is not a hard thing to do, but it is critical for the socialization of the baby and the dog for the safest and most enjoyable environment. Below are a few tips some tips for how to prepare your "first child" for the arrival of a new member of the family.
The Temperament Test
Most dogs readily will accept infants into the family after a period of curiosity, but it is important to know your dog. If your dog has demonstrated aggressive behavior towards small children or small animals in the past, it is wise to seek the consultation of an animal behaviorist. Also, if your dog has shown predatory signs, it is not wise to introduce him to your new baby until you seek professional advice. On the other hand, if Fido is non-aggressive and obeys your commands, there are certain steps that can be taken to socialize your dog to your new baby.
Commence with Commands
The first step is to make sure you have control over your dog and that he responds to your commands. He needs to be able to respond to commands such as "Come," "Sit," "Stay," and "Lie down." These commands should be given with positive reinforcement, and the dog should be given treats for responding to these commands.
This will ensure a positive reaction when the baby is involved. If you do not have control over your dog, you cannot expect him to behave accordingly around a baby. Your dog should be an active participant in all of the baby activities that will be taking place. These will all be new routines your dog is not used to, and the proper integration of him into these new routines will insure a smooth transition into life with a baby in the household.
Before the baby is brought home, items with the baby's scent on them can be introduced to the dog so he can smell and become associated with the baby before actually meeting her. Commands can be given to the dog around these new items to insure the dog will obey. When the new baby is brought home the dog should first be allowed to greet his owner without the new baby present and then have the baby introduced at a later time so the dog will be calmer and more relaxed.
Stock Up on Treats
It is advised to give a treat to your dog whenever he is behaving properly when you are interacting and comforting your baby. With the incorporation of your dog into everyday baby activities, he will come to have positive associations with her and can even begin to help you with your new arrival. Remember: Babies and children should never be left alone unsupervised with dogs or puppies. Adults must coach dogs on the proper way to act around children, and children must learn how to safely interact with dogs.
Donna Canzano is the director of development for the Humane Society of Charlotte. Join the group at their annual fundraiser, Pet Palooza.