Inside the Camps on Campus Youth Programs at UNC Charlotte
Registration opens on Jan. 25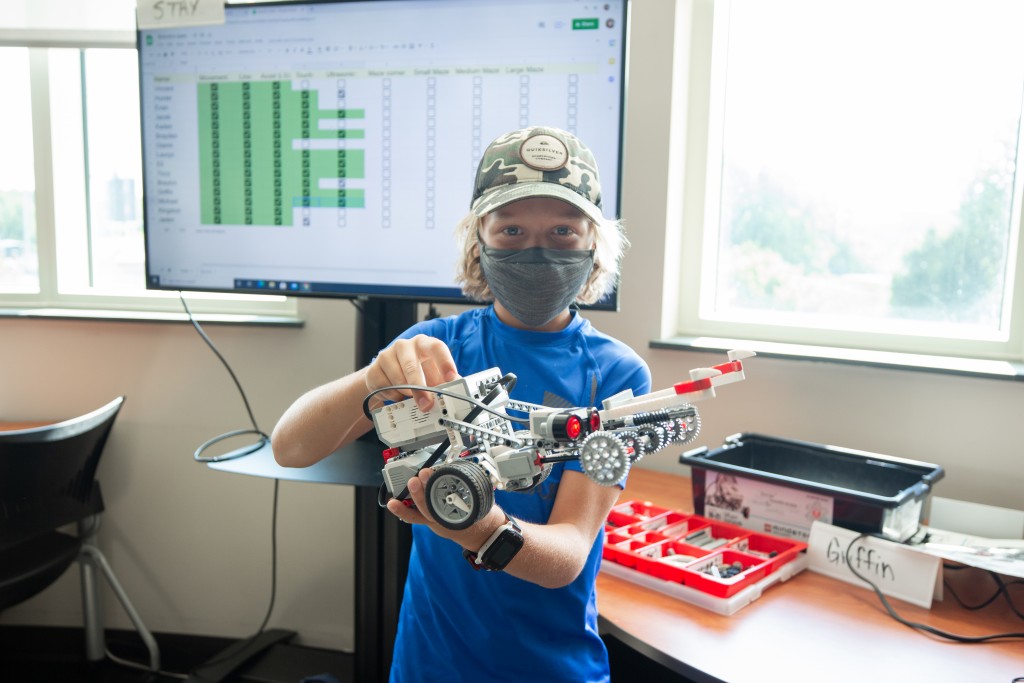 WHAT'S IT LIKE to attend one of UNC Charlotte's interactive Camps on Campus? "My son attended three sessions last summer and is now asking to drive by just to make sure there aren't more being offered now in the winter," one parent said in a testimonial. "Guess y'all did something right, since the kid is feeling a Cool School longing."
Cool School, for rising grades 1-4, is just one of the levels of offerings in the program, with courses like Science of Star Wars and Space and Digging for Dinos.There are in fact more than 100 camps for students entering first through 12th grades, and all camp counselors are college students who are leaders on campus, providing campers with role models and mentors. The highly popular program, running for more than two decades, is back this summer at the UNC Charlotte campuses.
While the vast majority of camps are offered at UNC Charlotte's Main Campus, a select few camps are offered at the Center City location. The Dubois Center at UNC Charlotte Center City, located at 320 E. 9th Street, offers a more central location for parents on the South End and those working in Uptown. Registration opens for the camps on Tuesday, Jan. 25, and camps begin Monday, June 13.
The age breakdown goes like this: Cool School (rising grades 1-4); 49er Minors (rising grades 5-8); Niner Academy (rising grades 9-12). A further look at the specific levels below:
Cool School
Cool School has fun and educational opportunities for children in rising grades 1-4 with planned activities for each course. Campers are introduced each week to a different topic in fields such as STEM, space, and theater while exploring the UNC Charlotte campus in a fun and safe environment. There is never a dull moment! Examples of popular camps include those mentioned above and Science of Slime, Cultural Culinary, and Robotics 101.
49er Minors
49er Minors camps (rising grades 5-8) provide a way for middle grade students to start to build the future they want with their passions and interests. Campers can experience something new and fun each week in fields such as technology and art — all taught by subject matter experts in a comfortable and inclusive atmosphere. Examples of popular camps include: Keyboarding & Film Making; As Seen on TikTok; Discover the World of Anime; Build an RC Car; and Intro to Science Olympiad.
Niner Academy
The Niner Academy (rising 9-12) is an exciting series of specialty summer camps for high school students who want to shape what's next with college and career. These one-week academies will take campers on an accelerated, hands-on learning experience on a single subject area. They will learn through collaborative exercises, group discussions, and presentations. No exams but plenty of eureka moments! Examples of popular camps include: Adulting 101: Life Skills They Don't Teach in High School; Fashion Designer Camp; Science Behind CSI; Mock Trial; and Self Discovery, Leadership and Communication.
That's a wide array of options, and many note that diversity of content is one of the program's many draws. "My son was excited to get to camp, and excited to tell me about his day in the afternoon," one parent says. "The curriculum was engaging and included a variety of STEM as well as arts and literature.
UNC Charlotte successfully held camps in Summer 2021, with enhanced COVID-19 protocols in place. The program continues to adhere to state, county, and university guidance in Summer 2022. Also, there's strict adherence to all campus policies concerning the safety and supervision of minors on campus. There's a continual update of camper policies related to food allergies and expectations of good citizenship and character of campers here, as well. Parents are invited to sign up for emergency campus alerts via text message and all emergency contact information will be stored electronically for easy access from multiple points on campus.
Most instructors are K-12 licensed teachers and administrators, including many Teacher of the Year finalists, who are experts at designing age-appropriate, creative, engaging learning activities for campers. Other instructors are graduate and doctoral students and professors teaching the Niner Academy and 49er Minor camps. Information introducing each camp's instructor and camp counselors will be sent in advance to parents.
Want to learn more about these educational and fun summer enrichment experiences? Head to UNC Charlotte's Camps on Campus here.