'Inside Out' Brings Emotions to the Big Screen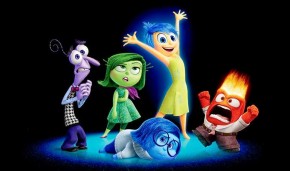 Who doesn't love a good Pixar film? From "Toy Story" to "Up," it's known for making awesome animated films that get to the heart of the matter. And "Inside Out" opening in theaters this Friday holds up to the usual Pixar standard. I haven't actually seen, it but reviews are good and I'm looking forward to seeing it with my son.
The movie is based around five emotions that live inside the brain of 11-year-old Riley. Joy, Fear, Anger, Sadness and Disgust all have a say in the how the girl handles her family's move from Minnieapolis to San Francisco, and often disagree on on how to handle the new scenario. With just the right mix of emotional tug-of-war, children can hopefully feel more at home with their own emotional struggles after seeing this film.
A mess of emotions is something all ages get tangled in from time to time. With that in mind, the folks at WINGS, a nonprofit education program that teaches kids how to behave well, make good decisions and build healthy relationships, shared the following tips for parents on how to help children deal with emotions. (These tips are good for parents as well as children!)
1. Take the STRESS Test: It's normal to get mad and lose control when life gets hectic.
Give your child different ways to cool off when they feel annoyed, agitated, nervous, or any other stressful emotion by teaching them the steps of STRESS.
Stand back and remove yourself from the stressful situation.
Take a deep breath and count to five.
Relax. Do something that relaxes you, like reading a book or listening to music.
Exercise. Get that stressful energy out in a way that works for you!
Sleep. Take a nap, or just rest quietly for a few minutes. Share your emotions.
Speak to a parent or friend about how you are feeling.
2. Push and Pull: Teach your kids to encourage themselves when they are feeling down by using the Push and Pull:
PUSH out the negative thoughts and PULL in positive thoughts and stick to them. Instead of saying "I'm not good at basketball," push out the negative thought and pull in a positive one by saying, "I am good at passing the ball and being a team player."
3. Go for the Goal: When your child is feeling discouraged, remind them that sometimes it takes a series of small actions to lead to a big result. For example, to get an A on your spelling test, it's best to study a little bit each night and do your homework.
4. March to Your Own Beat: Remind your child that everyone is unique and special. If we were all the same, life would be pretty boring! Teach your child to be proud of who they are, and to treat everyone with kindness.
For more tips, download the WINGS free Social and Emotional Learning Kit.