Inside Hemby Children's Hospital, Here for the 'Big and Little Things'
What makes this place special—no matter what your child needs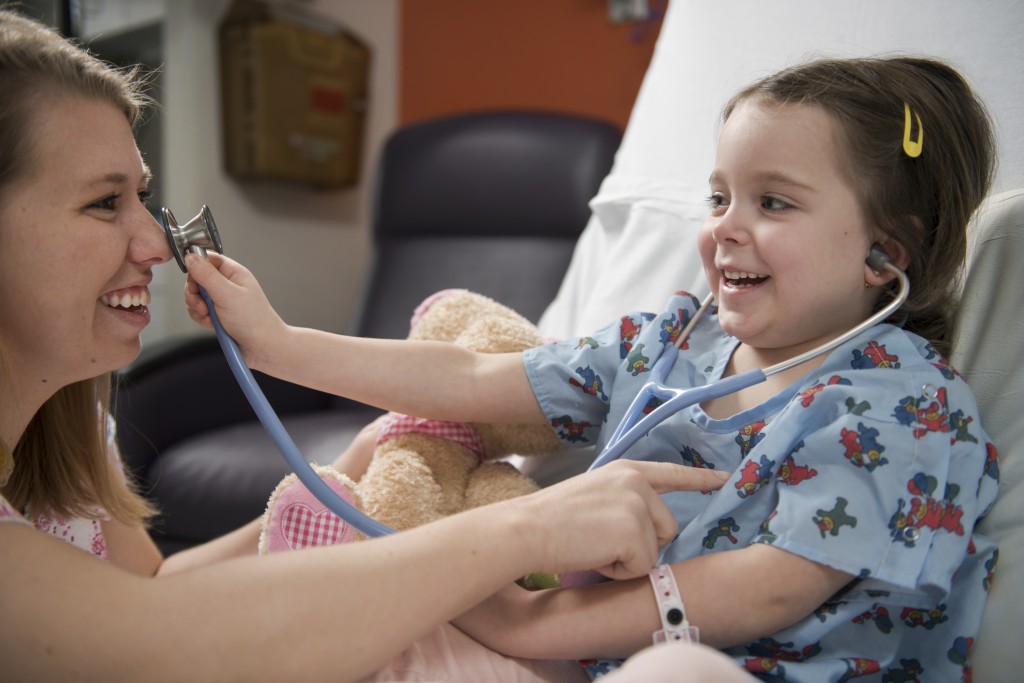 THERE ARE MANY ASPECTS of Hemby Children's Hospital that make it unique to Charlotte. Located inside the Novant Health Presbyterian Medical Center (200 Hawthorne Ln.), it has the only St. Jude Affiliate Clinic in the Carolinas. The clinic offers children and young adults the highest quality of care with compassion and dedication. Our staff includes experts in the treatment of children with cancer and blood disorders. The affiliation offers patients the latest research and newest treatments developed by the doctors of St. Jude Children's Research Hospital. Plus, children can get their care close to home. And don't forget the Ronald McDonald Family Room at Caroline's Corner, which gives families of children receiving treatment the comforts of home just steps away from the patient's room.
The uncommon attribute that makes the earliest impression, though, would be the Blume Family Playground, a 3,971-square-foot covered play area with an "under the sea" theme at the front entrance. It's one of the first signs that the experience at Hemby Children's is going to be special—and it's not just because of the amenities. "Many families say that they feel like family at Hemby Children's hospital," says Jessica Osborn, Hemby Ambassador. "Our team members are attentive, accommodating, and take the time to get to know their patients. Many families say they truly trust our team members and feel that their concerns are listened to. They also say that it is evident how much our team members care about and are dedicated to their patients."
The hospital's attention to detail is also reflected in the subspecialities available. There are more than 15, and they include pediatric allergy and immunology, cancer, cardiology, child and adolescent psychiatry, endocrinology, hematology and hemophilia, infectious disease, neurology and sleep medicine, sports medicine, and several others. Amid the pandemic, they also continue to screen team members and patients entering the facilities. Visitation guidelines currently allow for two guests each day, with no limit on hours.
The care options have only expanded since 1995, when the hospital opened. As of today, it has a 38-bed general pediatric unit; an eight-bed pediatric intensive care unit; a 38-bed Level IV neonatal intensive care unit; a 15-bed adolescent behavioral health unit;​and a 24/7 pediatric emergency department. Robust services are required for a robust range of needs, as the hospital serves children from birth to 17 years old.
That's why the hospital says it's "here for the community with expert care for the big and little things." And if the needs are urgent, its emergency room is the only children's ER in the area staffed 24/7 by board-certified pediatric emergency medicine physicians.
That's the kind of attention that provides comfort, no matter the reason you're entering the doors.
Learn more about Novant Health Hemby Children's Hospital here.