How Values Play Into Your School Decision
How to narrow your education options and choose what is best for your children.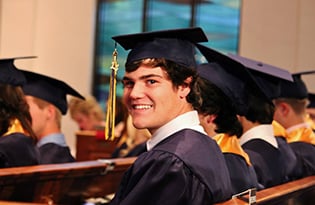 SPONSORED CONTENT
---
In our world today, the options regarding the education of our children appear endless. Parents can choose between public schools, private schools, charter schools, or schooling at home. How should parents narrow their options so that they choose what is best for their children?
It is tempting to begin the filtering process by looking at practical factors (location, cost, services provided, familiarity). However, the first filter must be a philosophical one. Parents are responsible for their children, including who teaches them and what they are taught. For many parents, it is of primary importance that those other voices who are influencing their children are pointing them in the same direction that they would do so themselves! Parents want the teachers of their children to value what they value – and for good reason. They want the information that is taught to their children to mirror their standards of appropriateness and world view. Teachers don't need to be exactly like the parents as children benefit from different perspectives – but parents shouldn't have to undo or re-teach everything that their children learn at school! Parents are careful what television shows or movies their children watch and what music they listen to because they know how influential the media can be. How much more influential are the teachers and what they teach our kids!
As stated above, the good news is that the options are endless. If parents will use this philosophical filter as their primary one, then they are sure to find a school (or many schools) that will agree with those values that are so important. As you investigate various schooling options, it may be helpful to consider the following questions to determine the best fit for your child:
1. What are your greatest hopes/dreams for your child in life (beyond school age)? Would this school share those hopes/dreams?
2. What characteristics do you value most in the adults who will teach your child? Would this school place a high priority on hiring those teachers?
3. How much involvement do you desire to have in your child's school? Would this school welcome that level of involvement?
4. How would you describe the culture/environment that you believe would best enable your child to thrive in school? Does this school match that culture/environment?
5. How important are extra-curricular activities to you and your child? Would this school share your opinions?
6. Since you know your child better than anyone, after answering the questions above, do you see your child FITTING IN at this school?
---
Scott Dillon is the Head of School at Westminster Catawba Christian School, who exists to partner with Christian parents in the biblical education of their children. We seek to hire teachers who are serious about their faith and who are effective in sharing that faith in the context of their academic disciplines. We desire that students are transformed by what they learn rather than just acquiring information. And, we seek to prepare our students to live out their God-given calling beginning now and lasting throughout their life. We would agree with the apostle John who states that he had "no greater joy than to hear that our children are walking in the truth" (3 John 4). For parents with that same desire, we hope that you will consider Westminster Catawba Christian School for your kids!