How to Stay Active All Winter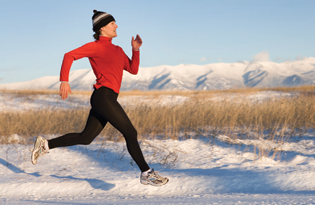 The winter months mark the end of the outdoor training season for many active people, and the colder, shorter days can make it challenging to stay motivated and active. In fact, Gallup surveys find that exercise levels and healthy eating habits amongst Americans significantly decline during fall and winter months.
"When the temperatures drop and the sun sets earlier, many people struggle to find the time, energy or motivation to stay focused on their fitness goals," said USA Cycling and Triathlon Coach Gale Bernhardt. "The best way to stay on top of your personal health and maximize cold weather workouts is to create an offseason game plan."
These easy-to-follow tips will help you run your day, your way and stay active this offseason, no matter how cold it is outside.
Some Is Better Than None: If you don't have time to go to the gym or fit an hour workout into your busy day, still try to fit in what you can. Try a steady walk for 20 to 30 minutes, climb a flight of stairs a couple of times, or simply walk around the block.
Embrace the Cold: Don't let the chilly temperatures scare you. Use the cold as an opportunity to find unique ways to get in some good cardio or strength work by raking leaves, shoveling the driveway, building a snowman or going on a winter weather hike.
Break Outside of the Gym: Winter workouts don't need to be relegated to the gym. Find an at-home fitness DVD (Pilates, yoga, cardio, etc.) or an on-demand television workout, and do your own in-house boot camp once a week to mix things up.
Mix Up Your Fitness: Use the winter season to learn a new skill. Try something new like indoor rock climbing, a dance class, fitness boxing, or cross-country skiing. Check out your local fitness center for ideas.
Stay Fueled in the Cold: If you find yourself in need of an energy boost prior to your endurance workout, grab a convenient fuel source such as a MARATHON® Bar or protein bar that provides protein to help keep you satisfied and fueled through the workout.
Winter Workout Buddy: For added motivation, invite friends to work out with you. Buddies give you incentive, provide mutual commitment and ultimately help keep workouts fun.
Join a Team: Winter is a great time for team sports like volleyball or basketball. Recreation leagues like these can provide a great aerobic workout and speed skills, too. 
Don't let the colder winter months slow you down. Whether the goal is to maintain endurance in between race seasons, effectively provide rest and recovery to a fatigued body, or simply to stay healthy and active during the long winter months, try the tips above to help develop simple strategies for training and nutrition that works best for you to stay fit and active during the offseason.