How to Slow Down and Make Memories With Your Kids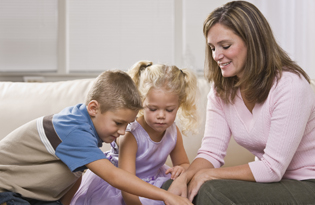 You've heard it over and over, "I don't have enough time in my day." It's most popular among parents who are working full-time and have kids. Moms, who work all day, rush to pick up the kids; rush home to get homework done, dinner, baths, stories and finally … bed. Then, if you're not completely wiped, maybe there are a few minutes for couple time or self-indulgence in the bathtub without a kid screaming from down the hall.
We are living in the most fast-paced, multi-tasking world ever. Not only are we driving to work while talking on the phone, eating breakfast, and applying make-up; we're teaching our kids to do the same. How can we slow down and really look at creating family time that is true, quality time and share that legacy with our kids? It's easier than you think:
1. Stop and think about what you would really like to do with your kids. Think about 10 years from now, the trips that you want your kids to remember or the experiences you want to share with them.
2. Take 15 minutes and have a family meeting. Ask questions about when family time should take place, what you should do together and what is most important to everyone. You'll be surprised by what you hear. Even chores together can be a bonding experience if they are made fun. When is the last time you washed a car together and had a water fight?
3. Schedule everything. Put it on an unbreakable calendar, meaning if it's on there, you are doing it. Many of us start with great intentions and grand gestures, but we reschedule and reschedule until the dates lose their effectiveness and eventually no one pays attention. I know a family who each year said they were going to Disneyworld, and before they knew it, the kids were in college. What a missed opportunity to create a lasting memory.
SEE ALSO: Find a balanced approach to your busy life at the 2014 Moms@Work Conference »
4. Be there. When you are at work, concentrate on work. When you are at home, really be there in that moment. You won't regret spending fun times and special moments, discovering new things with your family. Turn off the phones and outside disturbances. They deserve your full attention and you deserve the connection with them.
5. Make a rule that every five hours per week (or whatever works for your family) you work, you will spend one hour with the family doing something together on the weekend. If you implement a rule and share it, you will create an automatic work/ life balance that can be something the whole family anticipates. Remember to do what you say you are going to do.
6. Make everything fun. Dusting can be fun if you're dancing to the kids' favorite songs. Dishes can be fun if you create an assembly line while playing a word game. Cleaning can be fun if you hide money in places that really need it ($5 under the fridge anyone?). The point is anything is a drag when you have to do it every day. The fun is in the unexpected and the interaction with you. Make sure you are infusing your lives with moments of joy each day, if only for a moment. It is joy and fun that create memories and leave the greatest impression on our children.
Amy Stewart-Wright is Mom to four children, and founder and CEO of MoxieMommas.com.