How to Geocache in Charlotte
Join the world's largest treasure hunt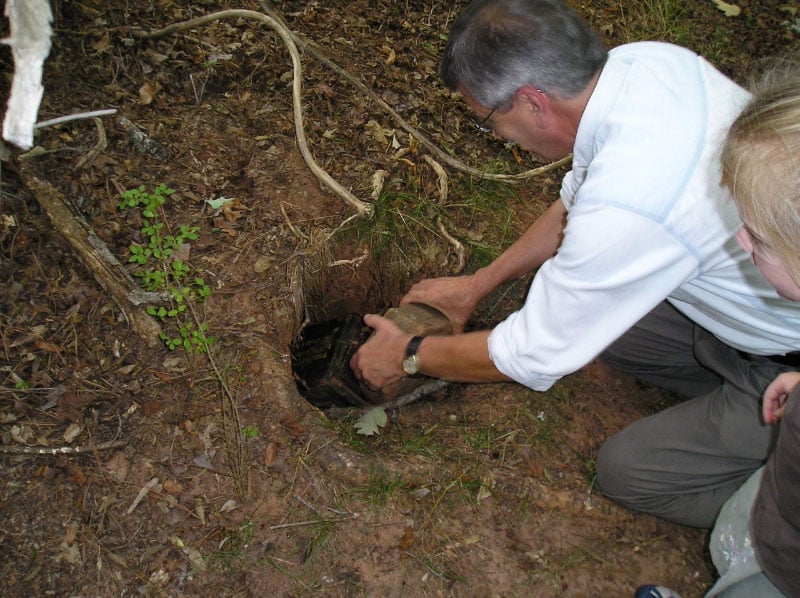 If you are looking for a family-friendly activity that gets everyone outside, offers lots of learning opportunities and promises great adventure, you are going to love geocaching (pronounced geo-cashing). Geocaching is part riddle, part hide-and-seek, part treasure hunt and can be played almost anywhere in the world, including the International Space Station and Mount Everest.
Eileen and Dave Dunlap, and their daughter Lauren Dunlap, live in Charlotte and have been geocaching since January 1, 2013.
"The nice thing about geocaching is you can make whatever you want to make of it," Eileen Dunlap says. Over the past four years they have logged over 1,200 geocaches in 28 states and 17 countries. The family has also found at least one geocache in 366 unique calendar days and are currently in month 45 of being the first to find a new geocache.
According to geocaching.com there are over 24,000 geocaches in North Carolina. Where you start is up to you, but first you need to know how to play.
How to Geocache
First you need a GPS device — many people use their phones — to help find a hidden geocache. Geocaches range in size from small film canisters to large buckets filled with items. Next, visit geocaching.com and register for a free, basic membership to see where the geocaches are located in your area or other places of interest. The caches list includes coordinates for the tracking device, the code name of the person who hid the item, and comments from other geocachers who have already found the geocache.
Once you choose a geocache, put the coordinates in your GPS device and get searching. When you find the item, sign the log book with your name, the date, and geocache code name, and return the geocache to its original location. If there are items inside you may take them, but you must replace it with something of equal or greater value. When you get back home, visit the geocaching page and share your stories and comments.
"With so many geocaches hidden in so many different locations, it can give anyone new and interesting challenges," Dave Dunlap says. "All three of us are learning and education junkies, so we enjoy the thrill of the hunt, but also the interesting locations and histories."
Watch out for Wooden Nickels
This popular pastime began when computer consultant Dave Ulmer wanted to test the accuracy of 24 GPS satellites launched into space in May 2000. He hid objects in the woods near his home in Beavercreek, Ore., posted the GPS coordinates on a website and waited. His experiment sparked the worldwide treasure hunt, which today includes over 3 million people actively searching for geocaches — and there are 2.8 million geocaches in 180 countries and growing, according to geocaching.com.
One of those 3 million searchers and cache hiders is Charlotte resident George Martin. He's locally known for leaving personalized wooden nickels in the caches he finds. Martin has been an avid geocacher since July 2007. He was hooked after reading an article about it in the newspaper. It didn't take him long to hide his own cache — Rama Road Park Treasure (GC182YX). Today he shares his passion with his family.
"I enjoy caching with my granddaughters from time to time. What is really fun is when they bring a friend. There is the race to see who can find the cache first," he says.
Find Something Unexpected
There are over a dozen ways to geocache. The traditional geocache is finding a physically hidden item using GPS coordinates. You can also solve puzzles, EarthCache, letterbox, event cache, find virtual caches and more. People also look for trackables — caches that people move from place to place until they reach their final destination. They are tracked online using a special code.
Lauren Dunlap is an eighth grader at Waddell Language Academy and says one of her most memorable caches was at Universal Studios in Orlando, Fla. While exploring the park, the family put in coordinates for a virtual cache. Surprisingly it led them to a set of dumpsters on Universal Walk behind the Hard Rock Café where they found a huge piece of the Berlin Wall. "For me it was cool because I'm in the German immersion program and we've learned German history," she says. Geocaching during vacation isn't unusual for the Dunlap family. "We have learned a lot about places just by finding geocaches."
Geocache Learning 101
Geocaching is also a fantastic learning tool. Scouts can earn a geocaching badge, and Patterson Farm Inc. in China Grove offers geocaching in conjunction with fifth-grade Common Core standards. Michelle Patterson is the farm's director of fun, and is responsible for the marketing, education and events of the farm. She says the activity teaches kids about math, working with coordinates, technology and farming.
"Farmers use GPS technology to save on money, resources and to be better stewards of the land," she says. "We use GPS technology to plot fields and when we take soil samples in a field."
When geocachers visit the farm they discover hidden treasure in buckets placed around property. It's all about learning, and life skills like teamwork, orienteering, plotting and map skills, she says. Anyone is welcome to try their hand at geocaching at the farm, just call ahead to reserve a GPS unit. Find contact information at pattersonfarminc.com.
The world is waiting to be discovered and geocaching is a great way to start. "If you like exploring new cities, towns or historical places, there are plenty of geocaches to find," Eileen Dunlap says. "In short, make it your own."
Courtney McLaughlin is a Charlotte native and freelance writer. She is currently working on coming up with a clever geocache name.
---
Do you Speak Geocache?
Part of the fun of geocaching is speaking the lingo. Below are some popular terms defined by geocaching.com. Now GHV (go have fun)!
Bug
Also known as a Travel Bug®. A trackable tag with a unique code that can be attached to an item. The trackable is then carried from cache to cache (or person to person) in the real world, and its progress can be followed on geocaching.com.
BYOP: Bring Your Own Pen/Pencil
An acronym often used by geocache owners to communicate to other geocachers that you need to bring a writing utensil in order to sign the cache log book.
CITO: Cache In Trash Out
CITO is an ongoing environmental initiative supported by the geocaching community. Since 2002, geocachers have been dedicated to cleaning up parks and other cache-friendly places around the world.
DNF: Did Not Find
An acronym used by geocachers to state that they did not find a cache.
FTF: First to Find
An acronym written by geocachers in physical cache log books or online when logging cache finds to denote being the first to find a new geocache.
Muggle
A non-geocacher. Based on the term muggle in the Harry Potter book series to describe a person who is not a wizard.