Host a Spooktacular Halloween Party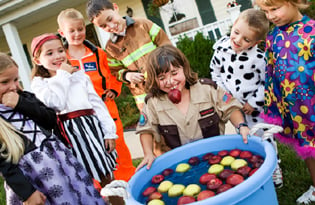 Whether it's super scary or just plain silly, your Halloween Haunt will be a hit with these quick and easy party tips. Tailor your event to fit a theme, such as Harry Potter, Friday the 13th, Bewitched or Magic and Wizards, or keep it general with lots of creative creepy touches. If there are little kids present, tone the frights down a bit, but if it's for fearless teens, kick it up a notch.
Eerie Invitations
Send the guests "Pumpkin Pal" invitations. Blow up orange balloons and hold the neck of the balloon without knotting it. Then write party details on the outside of the balloon with glow-in-the-dark pens deflate and mail to guests with a note to inflate the balloon in the dark to read the surprise.
For an extra thrill, include plastic spiders, rubber snakes, slimy eyeballs or candy body parts in the envelope.
Creepy Costumes
Choose a theme for your Halloween party, such as or let the guests use their imaginations and dress as they please. When guests arrive, offer additional accessories such as fright wigs, garish makeup, wound tattoos, masks and long fingernails.
Decrepit Decorations
Turn your party room into a Haunted House with stations for various activities and games. Begin by erecting cardboard or Styrofoam tombstones in the front yard, personalized for your expected guests. Set up inflated or cardboard cutouts of monsters, creatures and scarecrows. Inflate black balloons using Balloon Time helium balloon kits, and attach to the mailbox, trees and fences to greet the ghoulish guests. Cover white helium-filled balloons with white tissue paper, draw black circles for eyes, add an oval mouth, and place around the yard for floating ghosts. Cover the front door with cobwebs and play haunting sounds or music.
Continue the fun inside with decorated stations, such as "Frankie's Laboratory," "Body Transplant Hospital" and "Alien Autopsy." Include "specimen jars" with yucky stuff inside and make sure to include green, purple, and orange helium-filled balloons with the black ones to give the room a creepy yet festive atmosphere. Set up a fog machine, keep the scary music going and add glow sticks throughout the darkened room. Once in a while pop a balloon to give the guests a scare.
Ghoulish Games and Activities
Mummy Wrap
Divide into teams and give players rolls of toilet paper or black and orange crepe paper. Have them select a "mummy" from the group, then race to wrap the mummy (all but the mouth), without tearing the paper. The team that wraps its mummy first, wins a prize.
Alien Autopsy
Prepare "body parts" from various foods and other objects, such as cooked spaghetti for brains, peeled tomato for heart, Jell-O for liver, cooked penne pasta for intestines, dried apricots for ears, peeled grapes for eyeballs, popcorn kernels for teeth, and so on. Have the guests feel inside containers—without looking—and try to guess what they're really touching! Keep a camera handy for those wicked facial expressions.
Fearsome Refreshments
Serve "body parts" as appetizers or snacks and include mini sausages or hot dogs with ketchup for bloody fingers, deviled eggs for eyeballs and bones (refrigerated breadstick dough, twisted to resemble bones with warm pizza sauce for dipping.).
Spider web cupcakes are easy to make. Frost chocolate cupcakes with dark chocolate frosting. Put a teaspoonful of white frosting in the center and using a toothpick, "pull" lines from the center to the outer edge of the cupcake. Dip the toothpick in more white icing and draw concentric circles around the cupcake to create a web. Add a gummy spider and serve.
Worms in the Dirt are fun for kids. Buy chocolate pudding cups; remove lid and sprinkle on crushed chocolate cookies to look like dirt. Add a couple of gummy worms.
Serve Witch's Blood—blood red punch—in a cauldron, with a green floating "hand," made by freezing green tinted water in a rubber glove. Remove rubber glove "hand" at serving time by running lightly under warm water, and peeling back the glove. Make tinted green ice cubs with a gummy worm frozen inside for cups.
Frightening Favors
Glow sticks
Mini flashlights
Vampire teeth
Fake fingernails
Tattoos
Wax lips
Gummy worms
Costume accessories
Stage makeup kits
Slimy eyeballs
Creepy candles
Halloween CDs (make your own Monster Mix!)
For more Halloween ideas and all your party balloon needs, visit BalloonTime.com the leading brand of consumer helium balloon kits in North America, with helium filled tank, latex or foil balloons and ribbon. Available for $20-30 at party stores and grocery stores nationwide.