Hospitals Teach Modern Grandparenting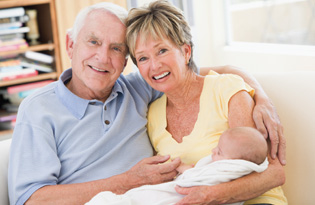 Many grandmas and grandpas have not cared for an infant in decades, and popular ideas, such as tummy time, kangaroo care and swaddling, may be foreign concepts to many. Experts have changed their tune on car seats and sleep positions since the '70s and '80s, and most seniors probably are a little rusty on changing diapers and bathing babies.
For those grandparents who need a primer on today's parenting styles—as well as a refresher on baby care—several Charlotte hospitals offer grandparenting classes. New grandparents, who may be planning on frequently caring for their grandchild, also learn how to fit in better with the new family dynamic. Instead of questioning a new generation's parenting choices, grandparents are taught to support ideas that may not have been popular in their era, such as breastfeeding.
Gloria Walton, a first-time Charlotte grandmother of a 6-week-old, says the class she took at Carolinas Medical Center-Pineville taught her to let go of her ideas of parenting and drop the belief that what worked 30 years ago is good enough for today.
"The most important piece of information I learned is it's not your baby, it's their baby," Walton says. "That was just an eye opener."
The CMC-Pineville class is taught by Marilyn Heisler, a nurse and a grandmother herself. She discusses everything from CPR to how grandparents should be sure to carry babies with a firm grip in order to compensate for hand weakness due to age.
Grandparents also learn baby-care safety, babyproofing (of their own houses) and the signs of postpartum depression. They are taught the latest information on sleep positions and what experts have learned over the years.
Many grandparents take the class with their spouse, and most are encouraged to attend by their children, says Jennifer Stone, CMC-Pineville assistant nurse manager for maternity education and lactation. The class has become so popular that CMC-Pineville plans to hold it more frequently next year.
Walton, who attended the class at the prompting of her son, says she now feels more confident in her grandparenting skills, adding she's already cared for her grandson several times. She says she learned about everything from crib blankets (a no-no) to pacifiers (encouraged for soothing the baby). As the mother-in-law, she learned she might best help by emptying the dishwasher or fixing the new parents dinner, rather than taking care of the baby.
"I think they feel comfortable (with me babysitting) because I had gone to the grandparent's class," Walton says, noting that because of the class, she knew to hand her grandson immediately to his mother after a recent babysitting stint.
"They came in and sat down (after returning from a movie), and I looked up and said, 'Oh, you want him,' and (my daughter-in-law) said, 'Yes.'" Walton adds, "I thought, 'Thank you, grandparent's class.' I probably would have kept holding him (otherwise)."
Marty Minchin is a Charlotte-based freelance writer and mother of two children, ages 3 and 6.
Got Grandbaby?
Carolinas Medical Center (Main) and CMC-Pineville
Sept. 12 and Dec. 12, 2-4:30 p.m.
$20; $40 a couple (relatives of patients only)
Call 704-341-2500
Presbyterian Hospital (Main)
Oct. 23 and Dec. 11, 10 a.m.-noon
$10; $20 a couple (general public and relatives of patients)
Call 704-384-CARE
Piedmont Medical Center Women's Center
Oct. 3, Nov. 7, Dec. 5, 3-5 p.m.
Free (relatives of patients)
Call 803-329-1234