Homemade Trail Mix Recipe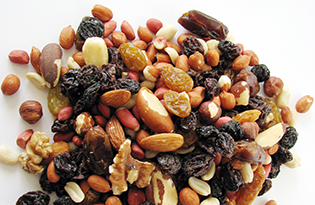 Trail mix is a great energy-boosting snack for children because of it's low-sugar and protein properties. When you make your own trail mix, you can make it your own by adding favorite dried fruits, nuts and even a little sweet chocolate chip or whole-grain cereal if you choose. 
Great options for homemade trail mix include:
• Dried pineapple
• Dried apricots
• Banana chips
• Unsalted peanuts
• Cashews
• Almonds
• Raisins
Most all items are available in bulk bins at local grocery stores. Let kids choose their five favorite items to include and mix it up themselves.