Homemade Hot Chocolate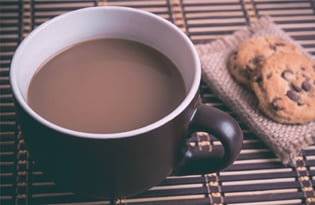 Hot Cocoa Mix
This mix will make enough for a few servings.
3 cups nonfat dry milk powder
2 cups powdered sugar
1½ cups cocoa powder.
1½ cups chocolate chips
¼ teaspoon salt Whisk together all ingredients in a large bowl. Then working in two batches, pulse the ingredients in a food processor until the chocolate is finely ground.
To make hot cocoa, put 1/3 cup of the cocoa mix in a mug and stir in 1 cup of hot milk.
You can store this in an airtight container for up to 3 months.
SEE ALSO: Snow Day Indoor Fun Ideas
Hot Chocolate
This is a rich version to whip up on the stove.
1/2 cup sugar
1/4 cup unsweetened cocoa
Dash salt
1/3 cup hot water
4 cups (1 qt.) milk
3/4 teaspoon vanilla extract
Mix together the dry ingredients, then add the hot water. Bring to a boil, and then boil and stir for 2 minutes. Add the milk and stir constantly to bring to the temperature you want, but do not boil.
SEE ALSO: Winter Fun Ideas