Historic Field Trips and Educational Getaways Near Charlotte: 2020
Make your next family getaway a learning experience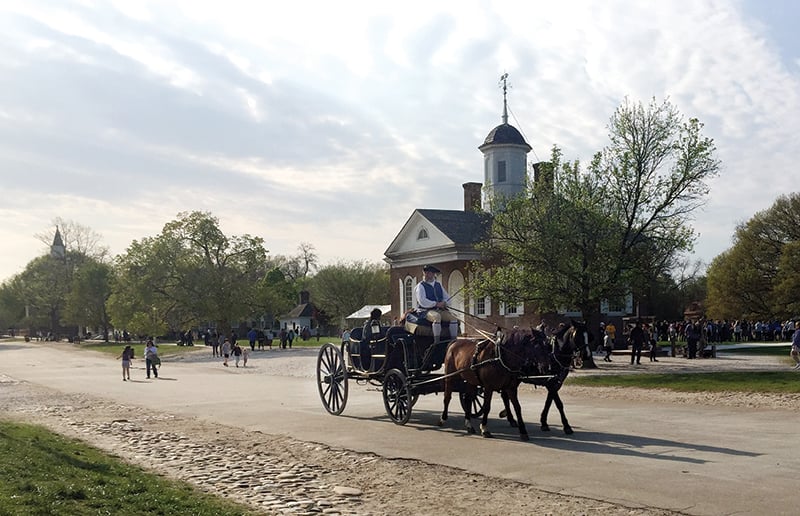 Make your next day trip, weekend getaway, or vacation a learning experience for the kids. From presidential homes to living history museums to historic sites, these destinations can enrich, inspire, and provide hands-on learning opportunities for all ages. See each one's website for the latest COVID-19 restrictions and guidelines.
---
Cherokee, North Carolina
Distance from Charlotte: 3 hours
Learn about the Cherokee people and nation through a educational, outdoor, and family-focused activities. Visit the Oconaluftee Indian Village, a living-history museum of an 18th-century Cherokee village. See the outdoor drama "Unto These Hills," which portrays the Cherokee people's past and present. Explore the nearby Great Smoky Mountains and Blue Ridge Parkway nearby where you can go hiking, camping, fishing, and sightseeing.
Don't miss: The Museum of the Cherokee Indian for exhibits, hands-on activities, and special events.
COVID-19 response: "We want to ensure each of you is happy, healthy, and able to return to Cherokee for years to come," says Richard Sneed, Principal Chief of the Eastern Band of Cherokee Indians. "And do come back, and fish our pure freestone streams. Feel the power of the rushing falls we call Mingo and Soco. Enjoy the Fire Mountain Trails, and stay with us in our variety of accommodations. Just be sure to reserve ahead to ensure your spot given our limited capacity."
Hours and Admission: Varies according to museum or attraction.
More info: visitcherokeenc.com
---
Williamsburg, Virginia
Distance from Charlotte: 5 hours

Imagine what life was like in Colonial Virginia during the Revolutionary War. Visit dozens of restored and re-created buildings at this living history museum, and see costumed interpreters, re-enactments, and demonstrations.
Don't miss: Tour the historic area by horse-drawn carriage, $40-$50.
COVID-19 response: Check their website to see what's currently open: "We've made updates based on guidance from appropriate government agencies and health authorities, such as the Centers for Disease Control and Prevention (CDC). These updates are designed to promote: cleanliness and comfort, physical distancing, (and) reduced contact. It may be different from your last visit, but together, we'll find new ways to create memories for you and your family."
Hours and admission: $14.99-$25.99 for a single-day ticket.
More info: colonialwilliamsburg.org
---
Durham, North Carolina
Distance from Charlotte: Just above 2 hours
What was life like on a North Carolina tobacco farm after the Civil War? Explore this historic farm, home, and property to find out. Take a 45-minute guided tour or visit on your own.
Don't miss: Before your tour, watch "Legacy of the Golden Leaf," a documentary that highlights the Washington Duke family and the story of how their tobacco manufacturing business began.
COVID-19 response: Measures at the site: limiting visitors to 50-percent of occupancy, to allow a comfortable visit to the Visitor Center and historic structures; requiring cloth masks to enter the Visitor Center and historic structures; all exhibits in the Visitor Center will be open; installing hand sanitizer stations and increasing the frequency of cleaning high touch public areas and restrooms; installing protective barriers at sales counters and information desks; and interactive exhibit features will be paused or modified.
Hours and admission: Tuesday-Saturday, 9 a.m.-5 p.m. Guided tours are offered daily, as schedule and staffing allows. Tours typically leave at 10:15 a.m., 12:15 p.m., and 2:15 p.m. daily. Admission is free.
More info: dukehomestead.org
---
Manteo, North Carolina
Distance from Charlotte: 5 hours and 20 minutes
Take a step back in time to learn about one of the country's longest and most intriguing mysteries — The Lost Colony. In the visitor center, watch a 17-minute video that explores the mystery and see artifacts discovered by archeologists. Check the calendar for children's programming like educational walks and arts and crafts.
Don't miss: The Elizabethan Gardens ($2-$9): "Our garden was created for your enjoyment, and as a living memorial to the time when Sir Walter Raleigh's lost colonists lived in this very place over 400 years ago."
COVID-19 response: The Lost Colony Outdoor Drama is canceled for the season; visit the website to see what is currently open. Outdoor areas, the visitor center, trails, the beach, restroom, and The Elizabethan Gardens are open as of October.
Hours and admission: The grounds are open daily, sunrise to sunset. The Lindsay Warren Visitor Center hours are seasonal. See website for more information. Admission is free.
More info: nps.gov/fora
---
Jamestown, Virginia
Distance from Charlotte: 5 hours
Walk the same grounds of the men and women who settled England's first permanent colony in North America. Explore the site of the 1607 James Fort, see artifacts in the museum, and learn what life was like for the English and Powhatan people. See calendar for living history tours and children's programming.
Don't miss: The award-winning Archaearium museum houses more than 2,000 artifacts.
COVID-19 response: "The James Fort site, New Towne, Archaearium, Glasshouse, and Dale House Café are open. All public programs continue to take place outside and follow physical distancing protocols. Please see the mobile-friendly Visit Guide for daily information about programs and hours of operation. … All 'James Fort: Lost & Found,' 'Curators' Artifact Tours,' and 'Forensic Fridays' have been canceled."
Hours and admission: Open daily 9 a.m.-5 p.m. Ages 16+, $14; ages 15 and younger admitted free.
More info: historicjamestowne.org
---
Blacksburg, South Carolina
Distance from Charlotte: 47 minutes from Charlotte
Learn about the battle of Kings Mountain on Oct. 7, 1780, a significant victory during the Revolutionary War. Explore the visitor center, exhibits, and the 1.5-mile battlefield trail. Visit nearby Kings Mountain State Park for camping, picnicking, hiking, fishing, and a 19th-century living history farm.
Don't miss: Check the events calendar and time your visit to see demonstration groups, such as the Kings Mountain Backcountry Militia. Learn about life in the 1700s through blacksmithing and woodworking displays.
COVID-19 response: "We are working to increase access to the park in a phased approach. Kings Mountain NMP will increase access starting on Sept 16 from 10 a.m. – 3 p.m., Wed-Fri, for an outdoor visitor services area, ranger talks and limited access for store sales."
Hours and admission: Open Wednesday-Friday, 10 a.m.- 3 p.m.
More info: nps.gov/kimo
---
Charlottesville, Virginia
Distance from Charlotte: 4 hours and 18 minutes
Visit Thomas Jefferson's estate, tour the original home, and explore the grounds where the third president once lived. Explore Mulberry Row, where Monticello's slaves lived and worked, and enjoy the carefully landscaped flower, vegetable, and fruit gardens.
Don't miss: New stations replace some of the tours of previous years; visit Slavery at Monticello, Gardens of Monticello, and Meet Thomas Jefferson.
COVID-19 response: "We are following rigorous protocols for continuous cleaning and disinfecting, and hand-sanitizing stations are readily available for guests and staff. Additionally, we've reduced our daily capacity and reconfigured the way guests move around the house and outdoors. We are implementing signage and related protocols to maintain physical distancing. We are offering live and previously recorded online programming content like 'Live Virtual Tours' for guests who wish to learn about Monticello from the comfort of their own homes."
Hours and admission: Open daily, except Christmas Day. Hours are seasonal. $10-$29.
More info: monticello.org
---
Spencer, North Carolina
Distance from Charlotte: 45 minutes
The museum is located on what was once Southern Railway Co.'s largest steam locomotive repair facility. Explore antique cars, a train depot, a 37-bay roundhouse, locomotives, and rail cars.
Don't miss: Schedule your visit to include a 25-minute train ride, pulled by an antique diesel engine. Rides are seasonal. See website for calendar.
COVID-19 response: "Due to Covid-19 restrictions, public buildings are limited to no more than 50 percent of the stated fire code capacity, with space available for social distancing throughout. Picnic shelters are open, arranged with fewer tables and greater distances in between. Train cars will be limited to 30 percent capacity and cars will be sanitized between each ride, including seats, windows, and handrails. Passengers will board their car through one vestibule door and exit on the opposite side, to limit or eliminate contact between passengers."
Hours and admission: Hours are seasonal. $4-$12.
More info: nctrans.org
---
Winston-Salem, North Carolina

Distance from Charlotte: An hour and 14 minutes
Explore the life of Moravians and early Southerners living in the 18th and 19th centuries and tour the historic town of Salem and surrounding gardens. Visit the town's buildings to see historic trades like gunsmithing, pottery, or gardening. Demonstrations include quilting, 18th-century games, hearth cooking, food preservation, and more.
Don't miss: Celebrate the holidays with the Candle Tea, held on select dates in November and early December. $1-$5. Sing Christmas carols, see how the Moravians make beeswax candles, sip on Moravian coffee and eat sugar cake, and listen to the Christmas story.
COVID-19 response: "Old Salem's historic buildings and venues are temporarily closed due to COVID-19 but grounds are open for exploration. … We will continue to offer engaging online programming to support teachers, students, families, and lifelong learners in our community. We will be launching new and innovative on-site programs, like Salem Pathways, as well as on-site research appointments during Phase 2.5, but our buildings will remain closed to traditional in-person visitation. This fall we will begin offering virtual field trips led by our talented museum educators as well as concerts and expanded online programs for lifelong learners. Old Salem also will continue to support the community in nontraditional ways, including baking bread and cultivating fresh produce for local food banks. To date we have donated more than 5,500 loaves of fresh bread and more than 2,500 pounds of produce from our gardens."
Hours and admission: Hours vary. $11-$27.
More info: oldsalem.org
---
Raleigh, North Carolina
Distance from Charlotte: 2 hours and 30 minutes
Curious about North Carolina's government and its history? Visit the North Carolina State Capitol, a National Historic Landmark that has been restored to its 1840-1865 appearance. Small groups can also schedule tours of the N.C. Executive Mansion, N.C. Legislative Building, North Carolina Museum of History, and North Carolina Museum of Natural Sciences.
Don't miss: Learn about North Carolina's ecosystem and wildlife in the "Mountains to Sea" exhibit at N.C. Museum of Natural Sciences.
COVID-19 response: From Museum of Natural Sciences: "The biggest change is that free, timed-entry tickets will be required at the downtown location as the Museum will be opening at a limited capacity to start. Visitors can reserve tickets at the link below. We are unable, at this time, to accommodate organized groups such as schools, churches, or daycares."
Hours and admission: Hours vary according to attraction or museum, but admission is free to the attractions and museums mentioned here.
More info: raleighnc.gov
---
Mount Gilead, North Carolina
Distance from Charlotte: 1 hour and 23 minutes
In the 11th century A.D., a new culture known as Pee Dee emerged, and inhabitants constructed mounds in the earth for their spiritual and political leaders. Town Creek Indian Mound commemorates that American Indian culture. Browse exhibits in the visitor center and take a self-guided tour of re-created structures and mound.
Don't miss: Savor the scenery and native plants with the nature walk, an easy stroll along the river.
Hours and admission: Tuesday-Saturday 9 a.m.-5 p.m.; Sunday 1-5 p.m. Closed Mondays. Admission is free.
More info: historicsites.nc.gov/all-sites/town-creek-indian-mound
---
Myra Wright is a North Carolina-based freelance writer. She enjoys traveling and finding educational opportunities for her three kids.