Hiking as a Family Benefits All Ages
Connect with nature to help kids feel more grounded in the "real" world.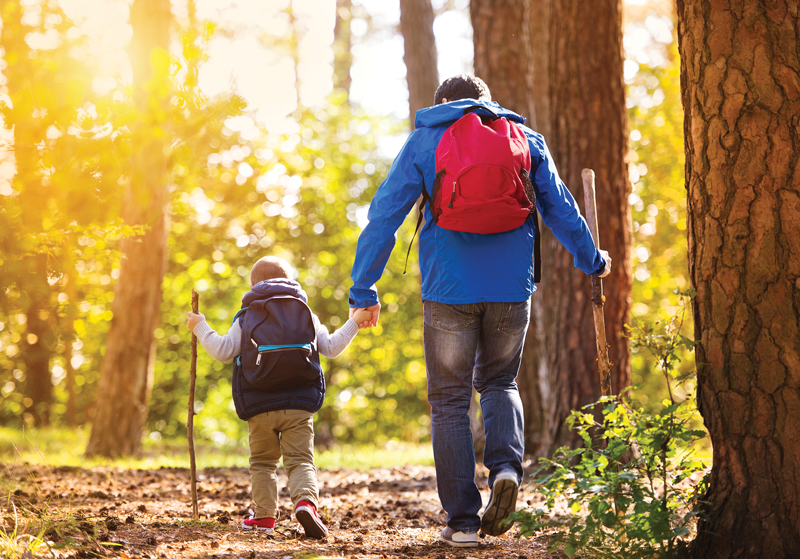 It's hard to imagine a more wholesome family activity than hiking. Exploring the outdoors boosts physical and mental health, promotes creativity and calms stress, says Heidi Magi, lead teacher at Pioneer Springs Community School, a nature-based public charter school in Charlotte.
"As a middle school teacher at a nature school, I see the ways in which a deep connection to nature helps kids feel more grounded in the world," Magi says. "Studies show that because the natural world is less structured than the electronic and indoor worlds that children spend time in, time in nature tends to increasing creativity, self-confidence and imagination."
Ready to get moving? From choosing baby's first trail to motivating hesitant hikers and keeping kids safe, here's what you need to know at every stage.
---
EARLY YEARS
Tiny Trekkers
The first step (pun intended) toward happy hiking with tots is making sure they're safe and comfortable.
"When planning a hike, a helpful general rule to remember is that a child can hike about as many miles as their age in years," says avid hiker and wilderness educator Dr. Douglas S. Diekema, an emergency medicine physician at Seattle Children's. Young children are more at risk for heat and cold injury than adults, so parents should bring an extra layer for children to wear and remember that babies and toddlers being carried stay cooler, even after you're warmed up, he says.
The most important thing about hiking with young children is to follow their lead, and to remember that they will more than likely take a long time to hike a short distance, Magi says. "When hiking with young children, don't expect to go very far. Instead, choose trails that will offer children lots of opportunities to get up close and personal with nature. Young children have a beautiful sense of curiosity about the natural world."
ELEMENTARY YEARS
Mountain Motivation
After years of meandering toddler hikes, parents often crave more adventurous treks their older kids only to find that their child would rather stay indoors immersed in a video game. When kids claim that hikes are boring or too hard, it means adults have made the indoors more appealing than being outside, Magi says.
"To get your children to spend more time in the backyard, create a family culture of being outside. Play soccer, catch, read in hammocks, build forts and dens outside," she says. "Limit your child's screen time and, more importantly, limit your own screen time; children do what their adults do."
Rev up kids' hiking motivation by linking trail time to their interests. Do you have a LEGO nut or Minecraft enthusiast? Plan a hike to a ghost town, historic building or ancient ruin. Budding marine biologists may love hikes along shorelines or easy water crossings (be sure to check trail conditions and follow safety guidelines in and around water). Creative types can bring a trail journal or small watercolor set to record their journey, Magi says. And who doesn't love a real-life treasure hunt? Download a geocaching app to search for small, hidden caches during your hike.
TEEN YEARS
Alone Together
Hiking offers opportunities for teens to build life skills like resilience, grit and executive functions; and to fine-tune their planning and organizing skills. Teens can build independence along with trail savvy by taking a mountaineering course, learning to read a map and a compass, and compiling their own "10 essentials" kit for hikes. The 10 essentials list was published nearly a century ago and has evolved over time.
"Nearly all '10 essentials' lists include food, water, a first-aid kit, a knife, warm clothes, rain gear, a compass and a map," Diekema says.
But it's not all about checklists or miles logged. Hiking also allows busy, on-the-go teens to slow down, reflect and connect with their families, Magi says.
"What teens really want is a way to stay connected to their parents, caregivers and families, even as they are developing more and more independence," she says. "I grew up hiking with my dad, and as a teen I always looked forward to our hikes because that was the time when he told stories about growing up and shared his thoughts about the world. Hiking can be a wonderful way of building this connection, so hike with your teen."
Malia Jacobson is a health and parenting journalist and mom of three avid hikers.