Helping Children Manage Risks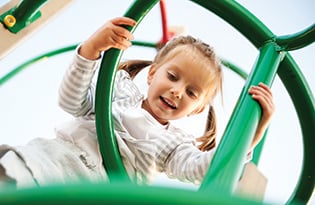 Every parent wants his or her child to soar, but daring to dream big means learning to take appropriate risks – and learning when to hold back. Cultivating a healthy approach to risk is vital to helping a child achieve his or her full potential. Whether your child is a timid toddler or a thrill-seeking teen, you can teach appropriate risk-taking-and help your child take flight.
0-6 Years
Love Lessons
A child's willingness to try new things – food, clothing or the new jungle gym at the park – is a good indicator of his tolerance for risk. Kids who avoid risks and dislike new experiences may be labeled shy, stubborn or picky, but these labels skirt the truth. In reality, a risk-avoidant child simply needs extra time to process new experiences and places a premium on making a good choice.
Parents can help risk-adverse kids step out of their comfort zone by dialing down pressure around simple choices. Let a child choose when to try a new food instead of coaxing her, for example, or let her know that you won't be disappointed if she doesn't climb the jungle gym today. Making sure your child knows that she's loved unconditionally – regardless of how a choice pans out – can increase her willingness to take small risks.
7-12 Years
Skill Building
School-aged kids are old enough to learn about the many shades of risk, good and bad, says licensed marriage and family therapist Amanda Lis. "Not all risk is bad – some risks are positive. Taking risks like trying out for a team and being accepted can build confidence."
As grade-schoolers become more independent, they need to learn how to recognize dangerous situations and safe people to talk to or appropriate places to go when they need help, says Lis. "Asking children what they perceive as risky, or to name situations in which they feel at risk, can guide parents in knowing which topics could be an issue." At this age, critical thinking is still under construction, so practicing how to react in a dangerous scenario can be helpful. Giving kids a "script" so that they know what to say in a stressful or risky situation is another important step.
13-18 Years
Screen Scene
Teens and risk go hand-in-hand – or rather, smartphone-in-hand. Tweens and teens can easily put themselves at risk by sharing too much information online, says Charlotte father of three Paul Adkison, creator of ZABRA, an online service that sends detailed reports to parents about risks kids are taking on social media sites. "Young people now live in a world of oversharing," he says. "Some 92 percent of teens post their real name to social media sites, 91 percent post pictures of themselves and 71 percent post the city or town where they live."
Teaching older children good cyber habits can help keep them safe online. Tweens and teens should set their profiles on social media sites to "private" so that people they don't know won't have access to their personal information. If your teen is on Facebook, you should be, too – parents should always "friend" or follow their teen on social media. "Parents should let their kids know that it's OK for them to be on Facebook and Twitter, but that they should be careful in terms of what they share," says Adkison. "A good rule to live by is to never post anything that you don't want the whole world to see."
Malia Jacobson is a nationally published health journalist and mom of three. Her latest book is Sleep Tight, Every Night: Helping Toddlers and Preschoolers Sleep Well Without Tears, Tricks, or Tirades.