Helping a Child Cope With Anxiety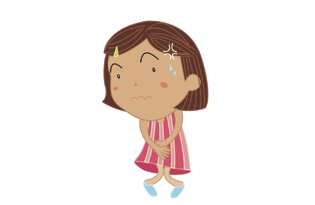 We all have our share of anxiety, but for some children it becomes a serious burden. Many factors may cause anxiety, but there are ways to help reduce anxiety a child feels.
In addition to worrying, anxiety may show up in different disguises in children. Children may have somaticization, where they experience bodily symptoms, but there is nothing medically wrong. They may experience a number of stress-related stomach pains, fatigue, chest aches, suffer from lack of concentration, and sometimes tension headaches, though those are rare.
Different types of anxiety a child may experience include, separation anxiety when a child fears being apart from family members or individuals to who he or she is most attached. Social anxiety, or a fear being around others, can occur when he or she is in an uncertain or unfamiliar situation outside of the usual comfort zone.
If a child experiences excessive worry and fear about future events or situations that may not ever occur, they may have generalized anxiety disorder. A child psychiatrist or mental health professional can perform a psychiatric evaluation to determine if your child has an anxiety disorder.
Help children cope with anxiety by recognizing symptoms when they begin and by implementing the following tips.
Help them learn to break down challenges. Teach them to break big projects or experiences into smaller parts, and celebrate their small successes.
Model a relaxed outlook on life. Children will copy your behavior. While some children can inherit a biological tendency to be anxious, children can also learn anxiety from their parents, if parents tend to display anxiety or worry often around their children.
Encourage your child to connect with friends and get involved in activities. These relationships can have a lasting impact on his or her life.
Turn the devices and distractions off. Share your hobbies with your child, and spend time outdoors hiking, gardening or playing together.
For problematic anxiety, few things beat the advice a qualified psychologist or therapist can give. Many medications can improve anxiety, depression and overwhelming stress and can be prescribed not only by psychiatrists but also by pediatricians, internists and other doctors who are familiar with the safety factors involved. Biofeedback and massage may help reduce anxiety as well.
If you are concerned about your child's anxiety, schedule an appointment with his or her pediatrician.
Dr. Anne E. Walker is a pediatrician at Novant Health Walker Pediatrics, and has three teenagers.