Heart Healthy Lean Beef Recipes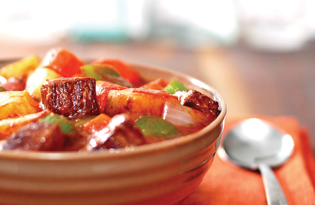 These days, many people are re-evaluating their diets to lower cholesterol and fat. They're looking closely at foods to eliminate or cut back. One item that shouldn't be on the chopping block is lean beef.
It may be surprising, but lean and extra lean beef are nutrient-rich sources of protein that complement a low-fat diet. In fact, a study in the American Journal of Clinical Nutrition found that a healthy lean diet that includes lean beef as well as fruit, whole grains, vegetables and nuts, showed similar effects on cardiovascular disease as a similar diet without lean beef. In the study, people using either diet showed a reduction in LDL cholesterol compared to those eating the typical healthy American diet. 
Mitzi Dulan, a nationally recognized nutrition and wellness expert and team sports nutritionist for the Kansas City Royals, understands that lean meat is an essential part of a healthy diet. "Lean and extra lean beef have tremendous nutritional benefits and provide more bang for your buck to healthy diets," said Dulan. "Adding lean beef into meals is a quick and easy way to inject necessary protein in your diet, in a low-fat, heart healthy way."
Dulan recommends several considerations for using lean beef in a healthy diet:
Look for beef that is "lean," which by USDA definition contains less than 10g of fat, 4.5g or less of saturated fat, and less than 95mg of cholesterol per serving. "Extra lean" contains less than 5g of fat, 2g of saturated fat and 95mg of cholesterol per serving. Brands such as Laura's Lean Beef are excellent options.
Lean beef can be easily substituted into many favorite and time-honored meals to make versions that are delicious and lower in fat and cholesterol. Whether making chili in the cold winter months or burgers for summer grilling, lean beef is a quick fix for healthier meals.
Lean beef is an excellent source of protein, which provides fuel for the body, helps maintain a stable blood sugar level and takes longer to digest, helping to reduce cravings. While the benefits are real, those looking to obtain a healthy diet must, as with anything, remain mindful of portion control.
For more tips and recipes using lean beef, visit www.laurasleanbeef.com.
> Classic Beef Stew RecipeÂ