Have a Healthier Halloween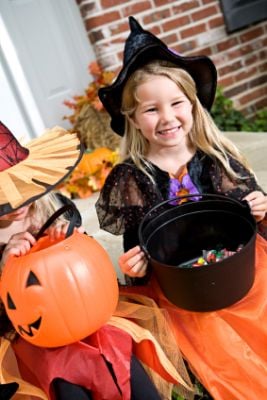 My father, a dentist, refused to give candy on Halloween night. He suggested apples; my mother managed to talk him down to popcorn. Still our house was only slightly more popular than that of the missionary family that dropped Bible tracts into the outstretched hands of costumed kids.
Our little goblins can quickly turn into gluttons after filling their jack-o-lanterns on Halloween night. The scary costumes may be benign compared to the terror that buckets full of chocolate, caramel and candy corn can bring to children's teeth.
There are a few tricks for dealing with the treats, says Dr. David H. Moore of Charlotte Pediatric Dentistry. First, after a night of indulgence, make sure to brush kids' teeth and gums thoroughly. Parents might consider rationing the candy, offering a few pieces and putting the rest away for later (or for never).
Moore also recommended looking for treats that would be fun, but not unhealthy.
"Gum – sugarless gum – can be a very healthy alternative," he said. "It can help pull away some of the candy sugar from teeth and stimulate saliva, which is a natural cleanser."
"Another concern, beyond teeth, is, of course, childhood obesity," he said. "This can be an opportunity to introduce healthy choices for snacks like fruit and nut mixes. We also like pretzels, although they may stick a little to the surfaces (of teeth)."
Parents can consider treats that aren't edible – stickers, crayons, whistles, plastic jewelry can be popular.
Preschool teachers, who probably deal with the aftermath of Halloween sugar as much as dentists and parents, often recommend a visit from the "sugar witch." Similar to the tooth fairy, the witch takes away and gives back. Children leave their candy for the witch, and overnight she replaces it with a special treat, maybe a new toy or book. It's a trick and a treat that can be healthy for the whole family.