Hands-on History for Home-Schoolers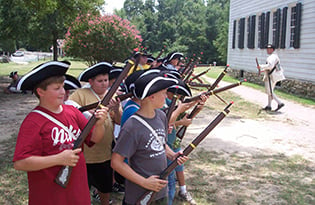 With the number of families choosing to home-school on the rise, local venues are providing special programs for the home-school community. Home-school students can open up a historical treasure trove through Historic Latta Plantation's Traveling Trunks program. The trunks contain history in tangible form, filled with books about how people lived in the 18th and 19th century, replica clothing that was worn during that time, plus games and toys that children enjoyed. Trunk topics include plantation life, the Revolutionary War, the Civil War, and slavery. Trunks are available for a fee of $30 per week and can be renewed up to three weeks.
Historic Latta Plantation also hosts Discover Latta Home School Days, with the next taking place Feb. 11 and another following in May. Discover Latta Home School Day includes hands-on activities and an educational program that revolve around a historical topic. Each program is developed to meet specific Common Core, social studies and science requirements for grades K-12. For more information, call 704-875-2312. lattaplantation.org.
SEE ALSO: Browse 40+ local homeschool resources