Guide: Glamping in North Carolina
Take camping up a notch on your next big outdoor vacation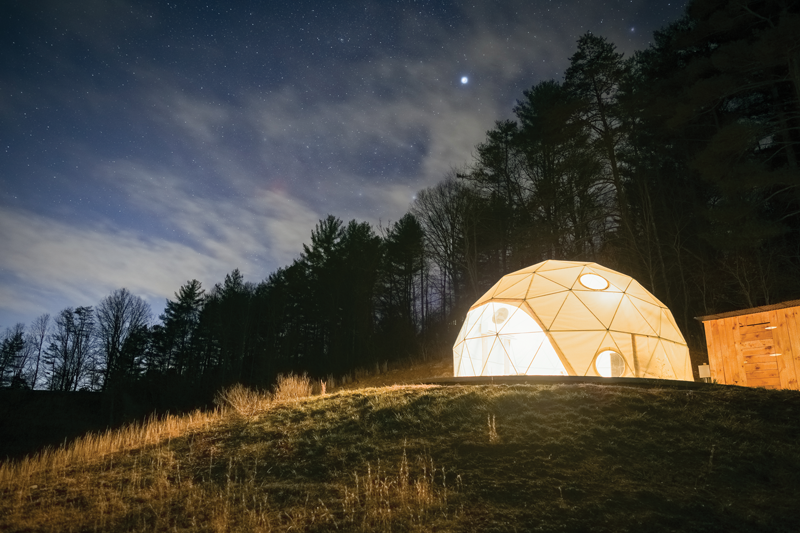 Skipping a resort for an adventure in the wilderness doesn't mean you have to do without all the comforts of home — just go glamping. Glamping, a word coined for glamorous camping, is a growing vacation trend that combines camping and modern amenities to provide an enjoyable, more comfortable vacation surrounded by nature. According to the latest North American Camping Report, more than 7.2 million households in the U.S. have started camping throughout the past five years, bringing the total number of camping households in the U.S. to a new high of more than 78 million. A vacation in nature, however, is a lot easier when you have a bathroom, kitchen and comfy beds. The blending of the best of camping and basic amenities provides a great way to experience the great outdoors, and that's what glamping is all about.
---
The Accommodations
Tent camping requires a lot of planning, packing, setup and takedown, not to mention sleeping on the ground. Glamping adds a touch of comfort with the relaxation of being in the great outdoors, without as much on-site preparation. Types of glamping accommodations include yurts, geodomes, glamping tents, treehouses and travel trailers. (Not sure what a yurt is? It's a circular tent with a framework used by nomads in Mongolia elevated with modern amenities at glamping sites).
"We think of it as easy camping," says Tim Murphy, owner of Emberglow, a 72-acre glamping retreat in Mill Spring, North Carolina that is on track to open in September 2019. "Accommodations are comfortable for sleeping, but are designed to get people outside."
Inspired by the Swiss Family Robinson novel, the big treehouse at Emberglow sleeps eight to 10, has a living room, a cargo net on the backside and lookouts. For smaller groups, vintage trailers, geodomes, yurts and tent camping are available. Each of the accommodations at Emberglow, which is open year-round, has running water, air conditioning, a microwave, coffee maker, small refrigerator and outdoor grill. Rentals, except for tree lofts, have private bathrooms. There also is a family bathhouse that gives parents the space to bring the whole tribe to get cleaned up without worrying about boys being in the girls' room or vice versa, Murphy says.
Next to the Nantahala Gorge in Bryson City, North Carolina, Falling Waters Resort is a 22-acre outdoor oasis with two ponds and a waterfall located on the property. The resort has eight yurts. Each yurt features a queen-size bed and futon that sleeps two to four people. French doors, three large windows and a wooden deck are nice additions. Each yurt has weatherproof canvas along with a ceiling fan (no air conditioning) and a space heater. While each yurt provides privacy, guests share lockable bathrooms with other guests. Television and Wi-Fi are not offered, limiting distractions while providing more opportunity to enjoy nature.
Asheville Glamping, located 10 miles outside of downtown Asheville, North Carolina, and nearby the French Broad River, rents yurts, vintage trailers, geodomes and treehouses that range in cost from $125 to $350 per night and stay booked a year in advance. The 1,300-square-foot Dome 3 at Asheville Glamping sleeps eight and has a loft bed with a slide. The sites have electricity and air conditioning, a fire pit, and some have Wi-Fi. The domes also offer stargazing from inside.
On the site of a former Girl Scout camp, Yogi Bear's Jellystone Park Camp Resort in Golden Valley in Bostic, North Carolina has two glamping options — luxury glamping tents and treetop cabins. Steps from a scenic lake, the glamping tents sleep five and feature air conditioning and heating, a microwave, a mini refrigerator and coffee pot.
Perched up in the trees, the treetop cabins sleep four and feature air conditioning and heat, television and outdoor kitchenette with a lake or mountain view. Both lodging choices include access to a nearby private, detached bathroom. Linens are provided.
Is Glamping Right for Your Family?
"Glamping is a great intro to camping for families," says Trey Barnett with Falling Waters Resort. "Glamping is great for folks of all ages. It is more about a desire for something more adventurous than staying in a hotel."
Glamping, however, is still a form of camping. Though glamorous makes up part of the word glamping, Asheville Glamping wants to be sure guests understand it isn't a five-star resort. Joanna Cahill, who co-owns Asheville Glamping with her fiancé Patrick Lovell, says that glamping is an outdoor experience, and folks who aren't interested in spending time outdoors aren't going to have as good of a time.
As stated on the Asheville Glamping website: Though our spaces are clean, we guarantee that you are going to see bugs at some point during your stay.
"We have learned to make sure to give people extremely accurate expectations," Cahill says. "We like to have folks arrive with lower expectations and exceed them."
Get Packing
"Families need to prepare much like they would for a camping trip, Barnett says. "Pack clothes with the mindset of being outside."
When it comes to food, Barnett recommends preparing as much beforehand as possible. "Campfire dinners (hamburger and veggies in foil) are popular, or plan to grill meats and veggies. Some families even choose to bring a camping cook-set to make cooking easier." Bring the necessary tools for grilling, and plenty of snacks and drinks to have on hand.
At Yogi Bear's Jellystone Park Camp Resort in Golden Valley, how much food preparation depends on how much you want to do. Glamping tents and cabins are equipped with a charcoal grill, but there are dining options to give the cooks in the family a break. Meals and snacks can be enjoyed at Campfire Café, Snack Shack and The Lodge. At the camp store, guests can stock up on groceries, ice, wood, propane, beer and wine.
The Adventures
Another benefit of glamping is access to outdoor activities ranging from zip lining to water slides, which may be included in the accommodation rate or available at a discounted rate to guests. Since Falling Waters Resort is a part of Wildwater Adventures, families can participate in rafting, zip lining (including a Kid Zip) and Jeep tours on the resort's property.
Not far from Falling Waters Resort is Bryson City, North Carolina. Board a one-way train ride from the Bryson City train depot into the Nantahala Gorge, then hop on a Jeep for a scenic back-roads tour. Afterwards get back on the train for a boxed lunch and a return trip.
Emberglow is created as a place that gives children the autonomy to roam and explore, says Murphy, who is a dad to three children under age 5 with a baby on the way. There is a pool with a sitting shelf, plus a playground, as well as an "unscripted" play area that allows children to use natural materials and their imaginations to build forts and create their own stories.
Yogi Bear's Jellystone Park Camp Resort in Golden Valley has Yogi Bear's Water Zone that feature water slides, blasters, cannons and a dump bucket. There's also the Ranger Smith Pool with a swim-up pool bar, basketball courts, horseshoes, mini-golf, a playground and volleyball courts. Enhance your family's experience for a few extra dollars with golf cart and hot tub rentals. Hit the lake in a canoe, kayak, paddleboat or stand-up paddleboard. An outdoor laser tag course is open day and evenings with games lasting 30 minutes.
"Families can expect a welcoming environment filled with fun activities, tons of brand new amenities, great food and the opportunity to reconnect with nature while making long-lasting memories," says Nicole Powell, reservations manager at Yogi Bear's Jellystone Park Camp Resort in Golden Valley.
Sara Kendall is a freelance writer based in Charlotte, North Carolina who also loves to explore new places with her family.