GUIDE: Exploring Reed Gold Mine
Pan for gold and tour the site of the first documented gold find in the U.S.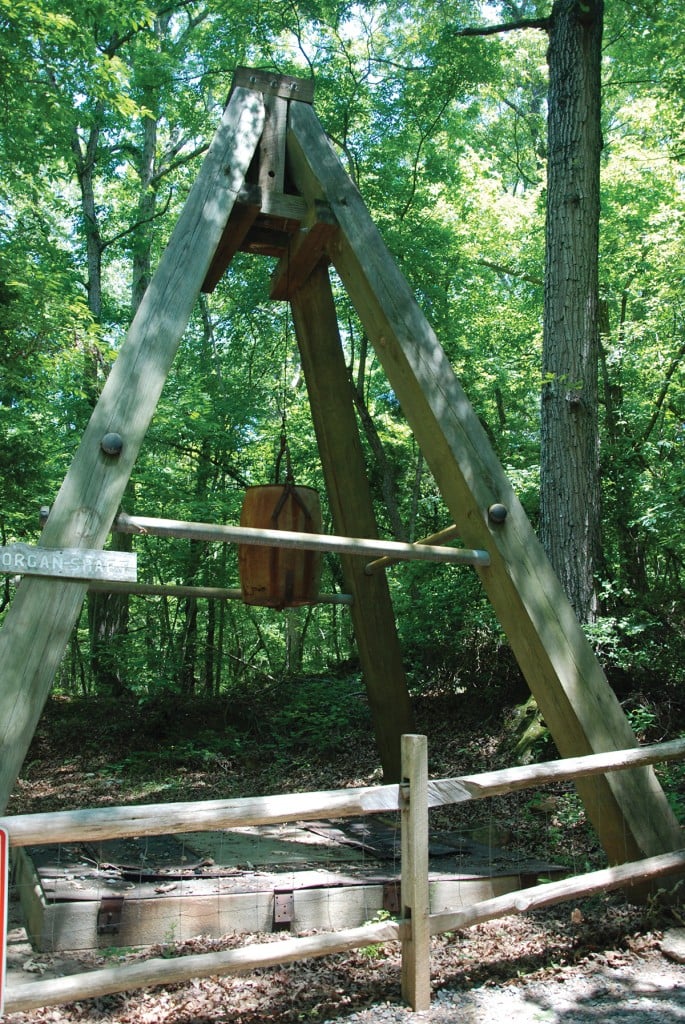 On a lazy Sunday in 1799, while fishing in Little Meadow Creek on his family's farm in Cabarrus County, young Conrad Reed found a heavy, shiny rock in the water. The Reeds used it as a doorstop for three years until a jeweler in a Fayetteville market identified it as gold that was worth $3,600. That discovery would forever change the lives of the Reed family.
The Value of Gold
Gold is a natural and rare element that is embedded in some quartz rock and brought to the surface through volcanic action. Known as the "eternal metal," gold does not tarnish or corrode. It has been used for centuries in coinage, jewelry, art and medicine. Throughout recorded history, civilizations have fought over gold, which has long been associated with beauty, luxury and greed. Today, an ounce of gold is worth more than $1,400.
Steeped in History
From its earliest days of placer (surface) mining — when John Reed, Conrad's father, organized a small operation in 1803 to extract gold nuggets from the soil — to eventual lode (underground) mining that began in 1831, Reed Gold Mine helped North Carolina lead the nation in gold production. It yielded over $1 million a year before California surpassed it during the famous Gold Rush of 1849. Reed Gold Mine ceased production in 1912 when prospectors failed to locate any more gold on the property, but families today can explore its tunnels that teemed with fervent miners laden with pickaxes, shovels and buckets over a century ago.
Tour the Mine
Guided tours of the mine and stamp mill are offered Nov. 1-March 31. No fee is charged for admission or tours. Begin your tour at the visitor center, where the mine's 113-year history unfolds in an impressive exhibit featuring restored excavation equipment and historical photographs. On display are dozens of gold artifacts, including jewelry, coins, place settings, serving spoons, a set of human teeth, and the helmet of an Apollo 17 astronaut, whose gold-coated visor provided protection against thermal radiation.
Just past Little Meadow Creek, where you can view the actual placer pits dug near the creek bed in the early 1800s to locate gold nuggets, Linker Adit awaits (an adit is a horizontal tunnel running through the side of a hill). This is the entrance of Reed Gold Mine and where an outcropping of white quartz rock lured prospectors to dig deeper.
Exploring Reed Gold Mine is a stirring experience. The confined, damp and dim mine is 50 feet deep and a constant 55 degrees. It's easy to envision yesteryear's miners, carrying oil lanterns for light, plunging further into the tunnels to unearth their treasure. Yet it contains beauty only found in a mine: water trickling down walls bulging with translucent quartz, timbers supporting the sides of chasms, and earthen-colored surfaces scarred by mining tools.
Fascinating sections of Reed Gold Mine include the gallery, a room that measures 35 feet high and where it is believed a large amount of gold was removed; Vein 5, where miners used hammers and chisels to form blasting holes filled with gunpowder for excavation; and the Linker Shaft Room, with its exploratory tunnel and iron bucket (called a "kibble") that miners used to haul ore, equipment and themselves up and down the shaft.
The Stamp Mill and Other Remnants
Housed in a barnlike structure, Reed Gold Mine's stamp mill — a marvel of machinery — crushed 5 tons of quartz a day to extract gold, which was then taken to the Charlotte Mint and melted into $2.50 and $5 federal coins. (The stamp mill on view is the restored version that was originally used at Coggins Mine in Montgomery County, and is the same model of mill that was used at Reed Gold Mine.)
Other historic remnants dot the 830-acre landscape, including those of Brunerville, a village that contained the miners' cabins, an office and a blacksmith shop; and the engine house, which powered other ore-crushing mills on the property. Reed Gold Mine was designated a National Historic Landmark in 1966.
Pan for Gold
Gold panning is available April 1-Oct. 31, weather permitting, with a charge of $3 per pan for individuals and $2 per pan for groups of 10 or more that make reservations a month in advance. Panning is not available Nov. 1-March 31.
30th Annual Gold Panning Competition
Race against the clock during the 30th Annual Gold Panning Competition at Reed Gold Mine on Sept. 14. Experienced and novice competitors will receive pans containing sand and four gold nuggets, and they must remove as much sand as possible while leaving all four nuggets. Competitions are 10 a.m.-noon for experienced competitors, and 1-3 p.m. for novice competitors. Fees range $5-$15.
If You Go
Reed Gold Mine is located at 9621 Reed Mine Road in Midland, North Carolina. Hours are Tuesday-Saturday, 9 a.m.-5 p.m. Admission is free with additional costs for gold panning. Picnic tables are abundant, so pack a lunch and spend the day touring Reed Gold Mine and walking its 3 miles of scenic nature trails. Call 704-721-4653 for more information.
Janice Lewine is the associate editor at Carolina Parent magazine.