Grow a Good Reader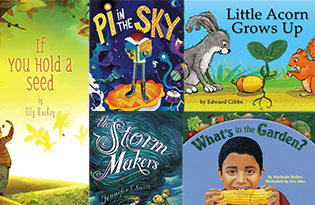 What's in the Garden by Marianne Berkes
Filled with short riddles and facts about fruits and vegetables, this book teaches kids about various fruits and vegetables that can be grown in their own backyard and how good food does not come from a box or a store shelf. Colorful illustrations and easy, kid-friendly recipes inspire a lifetime of good eating. Ages 3-8.
Pi in the Sky by Wendy Mass
Follow Joss, the seventh son of the Supreme Overlord of the Universe, as he attempts to bring the Earth back after it suddenly disappears, which is no small task for a guy who's only responsibility has been delivering pies his whole life! A fun sci-fi read for tweens. Ages 10-12.
If You Hold a Seed by Elly MacKay
Follow the life of a seed planted by a young boy who patiently waits and watches as it grows with him. Simple words and beautiful illustrations teach the timeless lesson to never give up, and that with love and patience, a dream can turn into a wonderful gift. Ages 3+.
Little Acorn Grows Up by Edward Gibbs
From modest beginnings, little acorn waits for the day when he will outgrow his forest friends and can offer them food, shelter and protection beneath his wide oak branches. An encouraging and uplifting story that explores the virtue of patience and teaches that the smallest things can hold the greatest potential. Ages 1+.
The Storm Makers by Jennifer E. Smith
When Simon is visited by a stranger claiming to be a Storm Maker, the summer for him and his twin, Ruby, takes an exciting and dangerous turn. The twins must figure out how to master Simon's powers in time to stop a rogue Storm Maker's potentially deadly plans. Ages 8+.