Great Gifts for the Grown-Ups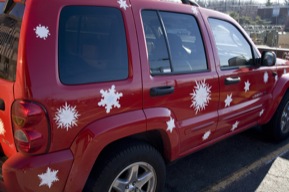 It can be hard to shop for folks older than 9, but adults like gifts too. Here are some they'll love!
Moms
Get Busy
With five columns to coordinate every busy mom's schedule. View dance recitals and PTA meetings side-by-side. Busy Body Book, $16.95, www.busybodybook.com.
Bragging Rights
Display your child's 8.5-by-11-inch school art in gallery style on jeweled clips. Add their latest artwork to complete the gift. Masterpiece Bragboard, $20, ai paper; Maddi's Gallery on East Blvd. 704-332-0007 and Birkdale Village 704-987-7777.
Dads
Ductigami: The Art of Tape
By Joe Wilson | Boston Mills Press
This hilarious book offers duct-tape ideas from wallets to aprons. He'll laugh and might surprise you with something duct-abulous on your next birthday. Paperback, $14.95, amazon.com.
Pimp Dad's Ride
Dress up the SUV with holiday designs from menorahs to snowflakes. Easy to apply stickers look custom-painted but peel off in a flash without damaging paint. Car Tatts, $8.65 and up, at www.car-tatts.com.
Grandparents
Artful Fun
Log on, upload a photo of baby and create a masterpiece in oil, pop art, watercolor and other fun styles. PhotoFiddle, $33.95 and up, www.photofiddle.com.
Extreme Grandparenting: The Ride of Your Life
By Dr. Tim & Darcy Kimmel
The honesty and humor will motivate grandparents to develop richer relationships with your children and theirs. Paperback, $14, family.org.
Don't forget . . .
The Teacher
A simple thank you is all a teacher really wants. Thank your teacher with free personalized sticky notes. Vista Print, $4.95 for shipping, Vistaprint.com.
The Babysitter
Lip Service
Give a swanky gift to your babysitter. This limited edition set of six cool colors for the gal on the go! Great for big sister, too. Her Glossiness by Benefit, $26, Sephora South Park 704-366-5080.
Stockings Were Hung . . .
Need a Christmas stocking in a hurry? Get online at www.build-a-stocking.com/DD for a quick and easy way to get traditional, needlepoint stockings and personalize them. Just type in your name, drag-and-drop your stocking design choice and view it online in a flash. Prices start at $12.98.