Good Gadget: Drink-N-Plate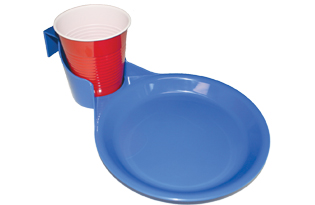 Whether you're gathering with the neighbors, tailgating at a Panthers game or hosting a soccer team party, the Drink-N-Plate is a great solution for children and adults. Easily held with one hand, it's a combination of a plate and drink holder, allowing the entire meal to be conveniently carried without spills. And think about those times when you're forced to clumsily stand up to eat and drink – now you can use your fork without also trying to balance your plate on your cup.
Drink-N-Plate is a durable reusable, dishwasher-safe combo perfect for outdoor and indoor settings. And, it can be personalized with a school or team logo! Get a family pack of six for $20, or a party pack of 24 for $60 at www.drinkandplate.com.
?