Good Eats in a Flash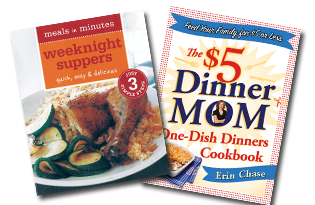 Busy moms often make sacrifices just to get everything done, but dinner doesn't have to be one of them. Don't surrender to the drive-thru. With some resourceful shortcuts and careful planning, you can easily prepare delicious, fast meals that the whole family will love.
Weekday Meals Toolbox
"The $5 Dinner Mom One-Dish Dinners Cookbook": With elegant recipes like Mango Chicken Curry Bake, you wouldn't think this cookbook was written for frugal moms on the go. But, this no-fuss cookbook, which hits stores Sept. 4, promises to feed the whole family for $5 or less. $17.99, barnesandnoble.com.
"Meals In Minutes: Weeknight Suppers": If you wish to work smarter – not harder – in the kitchen, "Meals In Minutes" is the cookbook for you. Beautifully illustrated, the cookbook is filled with three-step recipes and even includes sample weekly meal plans and grocery shopping guides. $9.99, barnesandnoble.com.
Pop-Out Bakeware: No more struggling to get those cakes or muffins out of the pan! Celebrity chef Curtis Stone's Pop-Out bakeware has silicone panels that allow you to loosen and push the baked goods out the pans with ease. $29.95, curtisstone.com.
Set & Forget Programmable Slow Cooker: This isn't your mom's slow cooker. The Set & Forget slow cooker offers three different cooking modes, so you can simply set the time you'd like to have dinner, and its built-in digital clock will handle the rest. Entertaining friendly, its locking lid and handles allow you to take it on the go. $59.99, hamiltonbeach.com.
3 Time-saving Tips
1. Purchase ingredients in bulk and prepare and freeze a week's worth of meals on the weekend. Next time you're busy running the kids around but still have a hankering for something hearty, just pop that prepared casserole in the oven.
2. So much of your time spent cooking in the kitchen can be wasted with prepping and cleaning vegetables. To skip the stress, clean and chop up those vegetables right after your trip to the market, and put them away until you're ready to go.
3. That slow cooker might look a little scary, but it can actually become your best friend in getting meals on the table faster. From succulent chicken to sinful macaroni and cheese, just throw a few simple ingredients in the slow cooker before heading out in the morning. Eight hours later: Voila, dinner is served before your keys even hit the counter.
Katie Quine is an editorial intern at Charlotte Parent Magazine, a journalism major and assistant editor at The Daily Tar Heel at UNC Chapel Hill.