Going Global: WFU Museum of Anthropology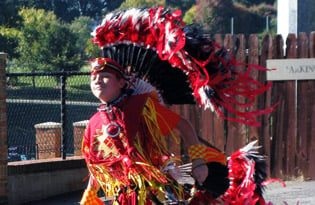 You don't have to board a plane to see woven masks from Papua New Guinea, ancient Mayan pottery or a Samoan skirt. You can see all these things and more at Wake Forest University's Museum of Anthropology on the university's Winston-Salem campus.
Budget-conscious families appreciate the museum's free admission, but the real treasure is learning about other cultures in a fun environment. It's a wonderful resource for parents who want their kids to think globally. Learning about other cultures can foster a greater understanding of the world and appreciation for other people, past and present.
"The Museum of Anthropology provides families with an opportunity to experience different global cultures in a fun and educational setting," says Sara Cromwell, the public relations, marketing and membership coordinator of the museum. "Children can be exposed to peoples and cultures that they might not otherwise encounter through the museum's exhibits and events, many of which are free to the public."
Ideal for children in elementary school and middle school, the museum can be explored by scavenger hunt. Young explorers are asked to identify four objects from the current exhibits, such as a damarau (storage jar) from Papua New Guinea, a painted Mayan ceramic plate or a traditional costume created by Kuna women.
Kids love games, so the scavenger hunt is a great way to get young visitors more engaged with the exhibits on display. There's also a slightly more challenging scavenger hunt for older students in middle and high school.
There are currently five exhibits at the museum. "Culture & Couture," which runs through Aug. 20, displays some of the museum's permanent collection of traditional costumes from across the globe. The garments show how clothing expresses religious beliefs, gender norms and social status. Here you find a kimono from Japan, Moroccan fez (hat), thobe from Saudi Arabia, Mexican huipil (blouse), and more.
"How Do They Know? The Science of Archaeology in the Yadkin River Valley" displays artifacts and information about the Native American groups that lived in the Piedmont. The exhibit also explores the role of the archeologist in learning about past civilizations.
"African Religion: Nothing Was or Will Be Except God" explores how traditional African people express their spiritual beliefs through places, person and objects. The exhibit examines areas basic to African religious systems: creation, spiritual places, life transitions, death and ancestors, social and political life, and effects of globalization.
Visitors to the "Art of Earth, Art of Sky: Maya Cosmic Imagery" exhibit find ceramic bowls, painted plates, murals, a wooden mask and several ceramic figurines. These items represent different beliefs about the universe in ancient and contemporary Maya culture.
"Face to Face: The Arts of Exchange in Mainland Papua New Guinea" uses woven masks, pottery and religious objects to show the role of trade in Papua New Guinea.
The museum also hosts family-friendly fun days three times a year. Recently, and quite appropriately, the country of Japan was spotlighted. Be sure to check the website for upcoming events.
The museum gift shop's annual Spring Sale runs through May 15, and visitors receive a 15 percent discount. Choose unique Mother's Day or graduation gifts. Featured items include jewelry from Africa, Peru, Asia and the Southwest United States. Also available are coloring books from different cultures and countries, and various toys for kids and kids at heart.
Myra Wright is the editor of sister publication Piedmont Parent.
If You Go, You Need to Know
Museum of Anthropology
Wake Forest University
Behind Kentner Stadium on WFU's Reynolda Campus in Winston-Salem
336-758-5282
On the Web
Hours & Admission
Tuesday-Saturday, 10 a.m.-4:30 p.m.
Admission is free, but donations are accepted.