Go on a Fantastical Journey at 'Never Abandon Imagination' Exhibit
New exhibit at Mint Museum Randolph showcases art of award-winning author and illustrator Tony DiTerlizzi.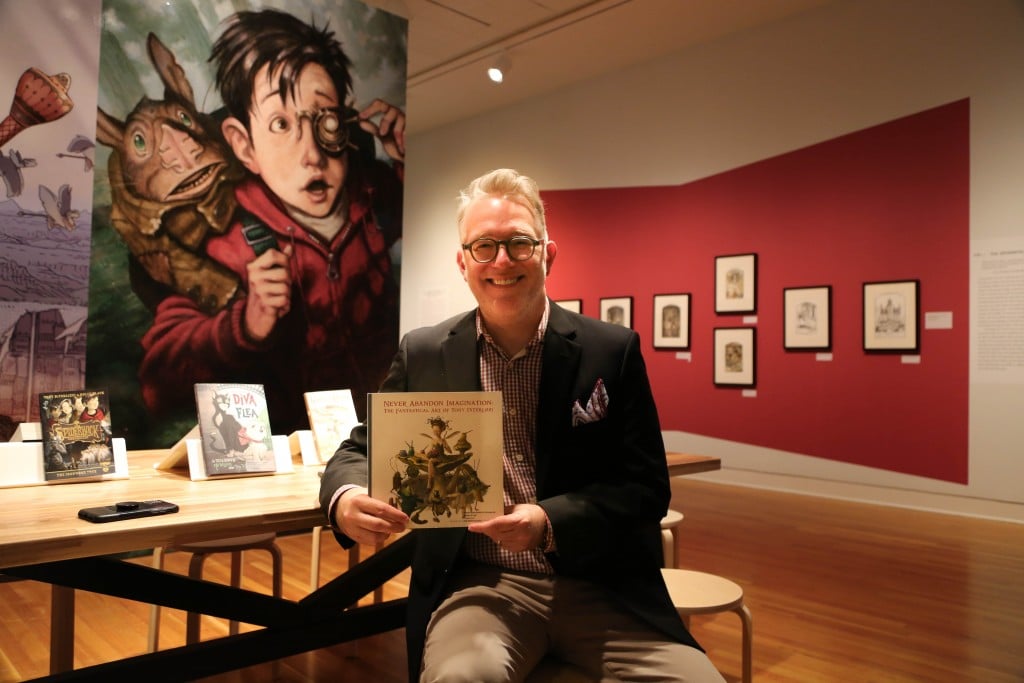 From board games to favorite childhood books, graphic novels, action figures and toys, Tony DiTerlizzi's art studio is filled with things of his childhood. It makes sense for a man whose career is driven by imagination. DiTerlizzi is widely recognized as one of this generation's leading authors and illustrators of books for children and young adults, including "The Spiderwick Chronicles," a middle-age novel that was made into a major motion picture in 2008, "The Spider & the Fly," and the children's book series "Ted." His first big break, however, was as an illustrator for the role-playing game Dungeons & Dragons, then Planescape, followed by the collectible card game Magic: The Gathering.
More than 150 of DiTerlizzi's original works, including sketches and drawings from when he was in elementary, middle and high school, are on display at the exhibition "Never Abandon Imagination: The Fantastical Art of Tony DiTerlizzi," at the Mint Museum Randolph, June 22 through Nov. 3. The exhibit is designed with kids in mind. Many pieces are mounted at kid level. Many gallery walls are designed by local Children's Theatre of Charlotte set designer Tim Parati to mimic the worlds of the characters DiTerlizzi created. There are also numerous interactive stations for kids to create their own art.
For DiTerlizzi, the ultimate goal of the exhibit is to inspire kids with his early drawings and sketches who may walk away and think "Wow maybe I can do that," he says. "When you look at a finished painting as a kid, you look and think 'I can't do that' and 'how do I get there,' so we intentionally put things in of all stages of my art from elementary, high school and art school to demystify the art."
---
The Early Influencers
DiTerlizzi, 49, grew up in Florida and says he was always the kid in the back of class drawing. He credits his parents and school art teachers for their encouragement of his raw talent, which pushed him to keep drawing and ultimately follow his dream of illustrating children's books.
"I grew up in an artsy household and had the fortune of having a stay-at-home-mom who was artistically inclined. She was the one who sat and drew with me at the kitchen table or in my bedroom." DiTerlizzi says.
He loved drawing so much as a child, he remembers a time just after his mother had painted his bedroom walls. He was around age 6 and very into drawing dinosaurs.
"While (the walls) were drying I went into my room with pencils and just covered them with dinosaur drawings. I can still remember the look of Mom just like 'you just did that didn't you.'" As the story goes, "My dad comes home from work and he had stopped by the butcher and had gotten and gotten a roll of butcher paper and put it on the walls and said now you can draw on the walls." Instead of squelching his innate desire to draw, "my parents figured out how to make it work for me," he says.
For many years, DiTerlizzi says he didn't think there was anything particularly special about his art, but he knew he loved to draw. By the time he was a senior in high school, however, he started to consider art schools after graduation.
"My art teacher, Tom Wetzel, took me under his wing and saw my raw ability, but also saw that I didn't have a focus." Wetzel pushed him to find his point of view. What kind of art did he want to do? At the time, his younger brother was reading "Alice's Adventures in Wonderland." Over the course of the weekend, while reading with his brother, DiTerlizzi decided that he wanted to do his own rendition of the Alice in Wonderland characters. It was then that he decided he wanted to be a children's book illustrator.
Holding Onto the Fairy Tales
DiTerlizzi got a his big break the fall after he graduated college and after repeatedly sending numerous illustrations to TSR, the then owners of Dungeons & Dragons. A fan of the game, DiTerlizzi spent a decade illustrating characters for Dungeons & Dragons and is happy to see a renaissance of the game with kids today.
---
"Twelve-year-olds who played in the '80s now have 12-year-olds, so it's a put-your-device-down-and-let's-play-together-as-a-family game," he says. "And it scratches your imagination. Whatever you think of can be done." Same can be said of the game Magic: The Gathering for which DiTerlizzi also spent years painting illustrations.
A fan of classic fairy tales and stories by Lewis Carroll, L. Frank Baum and contemporary authors, including Beverly Cleary and Roald Dahl, DiTerlizzi says he constantly taps his 8, 9, 10-year-old self through stories and toys he holds onto. He also takes inspiration from his 12-year-old daughter Sophia who keeps him connected to childhood celebrations, trials and tribulations, and the simple things kids love today as much as he did when he was a kid like "Friday night pizza and a movie and crawling up on the couch with your family to watch The Goonies," he says.
"I makes books that I think would impress the 10-year-old version of myself," he says, but he runs all new book ideas by Sophia to get her take. "Aside from her opinion and encouragement, she brings me back to being 12."
---
Artist Advice
For anyone who has a child who is interested in art, DiTerlizzi advises patience. "I think art is a skill not unlike knowing to play an instrument, so it takes time and patience, and you will fail many times, but you will succeed," he says. "Not everything will go your way and not they way you think it will." Lessons that can also be applied to life.
"I'm really the product of a kid who just had daydreams of being an artist, and could tell stories that I liked as my job, and I just never stopped doing that. There were many years that it looked like it wouldn't happen, but then it did. I didn't give up," he says.
What's in Your Art Kit?
As a mom of a kid who loves to draw, this was my son's question for DiTerlizzi: What's in your art kit? His answers:
Ticonderoga No. 2 pencils
Eraser pack with gum and white eraser
Pilot microball pens
Reams of white bond paper
"I use some fancy paints, but my main tools, my most beloved tools, can be bought at a CVS or a Staples," he says.
DiTerlizzi, who used markers in art school and now uses pen and ink and watercolors, says alcohol-based markers like Copics, are a great way to learn color and blending as opposed to watercolor paints, "which can be intimidating," he says.
His trick: Put a bit of rubbing alcohol on a cotton swap, then use the cotton swab on a picture colored with alcohol-based markers to blend colors and give the appearance of watercolors. The same can can be done with water-based markers. Simply draw with water-based markers, then use a brush and water to turn it into something like a watercolor.
"At end of day have to find what feels so natural it feels like another finger on your end and can use the pen or paint as effortlessly as possible. For some it's oil paint, watercolor or its a camera," he says.
"Never Abandon Imagination" is at the Mint Museum Randolph from June 22 to Nov. 3. Museum admission is free on opening day (June 22), and includes family-friendly activities, plus a talk by DiTerlizzi at 1 p.m.
Michele Huggins is the editor of Charlotte Parent magazine.