Go Apple Picking in the Carolinas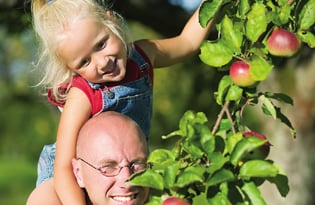 Did you know North Carolina ranks in the top 10 of apple-producing states in the nation? The largest N.C. crops come from Henderson County, just outside of Asheville, and include Red Delicious, Golden Delicious, Rome Beauty and sweet Gala varieties.
September is prime apple-picking season at Carolina orchards. It's also the perfect month for outdoor fun. Head to a nearby orchard to pick a peck of apples, sip on cider and sample homemade apple butter.
Some orchards offer tours and allow you to pick your own apples. If you don't have an entire day to head to the mountains, Windy Hill Orchard & Cider Mill is just an hour southwest of Charlotte in York, S.C.
"You can pick a bushel (of apples) in about 20 minutes, but if you come with your family, and everyone takes a bag, take your time, pack a picnic and spend a couple hours at the orchard," says Matthew Gusmer, operations manager at Windy Hill Orchard.
In addition to sampling an apple-cider doughnut (a Windy Hill Orchard specialty), families also can enjoy a hayride, hear the Johnny Appleseed story, watch a cider-making demonstration and help make a life-size scarecrow. As part of the $7 tour, kids get to take home an apple-cider sipper and bag of apples, says Gusmer. "It's a great way to start the fall season with the family, and actually see where apples come from and have a good time."
Apples that hang on the outer branches of the trees receive the most sunlight and ripen earliest, which makes it easy to know what is best for picking. And, be sure to twist the apple rather then pull on the apple in order to break the stem and not harm the tree, says Gusmer.
Before venturing out on an apple-picking excursion, consider these tips to make it fun, even educational, for the entire family.
Read the story and learn the song about Johnny Appleseed before heading out.
Find recipes for making candy apples, applesauce and apple turnovers, so your children have something to look forward to when the apples are brought home.
Decorate bags to use for apple picking.
Pack a picnic and lots of water, and don't forget disinfectant wipes to clean up dirty and sticky hands.
Play a game while picking -who can find the smallest (or larges) apple?
Invite friends to join in the trip and have a bobbing for apples contest on the back deck when you get home.
Have fun, but remember: Apple orchards also are working farms, so be sure to keep an eye on the kids as they explore the grounds.
For a list of orchards in the Carolinas, visit www.allaboutapples.com/orchard. 
Better Than Apple Pie
Need an idea for what to do with all the apples you bring home? How about this recipe by Amber Williams, winner of the 2009 Lincoln County Apple Festival apple recipe contest in the youth category.
Chunky Apple Cake
1/2 cup butter, softened
2 cups sugar
1/2 teaspoon vanilla extract
2 eggs
2 cups all-purpose flour
1 1/2 teaspoons ground cinnamon
1 teaspoon ground nutmeg
1/2 teaspoon salt
1/2 teaspoon baking soda
6 cups chopped, peeled tart apples
Butterscotch Sauce:
1/2 cup packed brown sugar
1/4 cup butter, cubed
1/2 cup heavy whipping cream
In a large mixing bowl, cream the butter, sugar and vanilla. Add eggs, one at a time, beating well after each addition. Combine the flour, cinnamon, nutmeg, salt and baking soda; gradually add to creamed mixture and mix well. Batter will be stiff. Stir in apples until well combined.
Spread into a greased 13-by-9-by-2-inch baking dish. Bake at 350 degrees for 40-45 minutes, or until top is lightly browned and springs back when lightly touched. Cool for 30 minutes before serving.
Meanwhile in a small saucepan, combine brown sugar and butter. Cook over medium heat until butter is melted. Gradually add cream. Bring to a slow boil over medium heat, stirring constantly. Remove from heat. Serve with cake.
Yields: 12-14 servings
Easy Ways to Add Apples to Your Day
Stir some apple slices into your hot or cold breakfast cereal.
Garnish a green salad with diced apples for color and flavor – not to mention great nutrition.
Snack on an apple for an afternoon energy boost – try a different variety every day of the week.
Serve a side dish of applesauce with lunch or dinner.
Quench your thirst with an apple juice spritzer: Mix 100-percent apple juice with equal parts seltzer water, and serve over ice.
Substitute applesauce for oil in some baked goods, to cut fat and calories. This works especially well with cakes, muffins and brownies.
– Source: Lincoln County Cooperative Extension
Explore our Fall Calendar for more information on local apple festivals