Giving Thanks for Family Traditions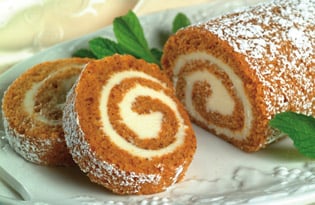 (Family Features) When I was growing up, we had certain Thanksgiving traditions. Most memorable for me was that our extended family would often gather at one of my aunts' houses. The adults would squeeze together around the dining room table and the kids would sit together at a smaller table on folding chairs. To this day I wonder just how everyone fit into their houses! We always ate on the good dishes, one of my uncles would always carve the turkey, and we kids always tried to hide our green vegetables under the mashed potatoes. Sound familiar?
I'm thankful for these memories and the comfort of family traditions. And I'm grateful that as our families grow, we can share these memories and make new ones together.
Thanksgiving dinner wouldn't be the same without the familiar dishes that everyone loves. One recipe that is a tradition with us is this classic Pumpkin Roll. It's got that terrific spiced pumpkin flavor, a sweet, creamy filling and it looks fantastic when you serve it. It's fun to make, too. If you want some helpful tips, watch the how-to video online at http://www.verybestbaking.com/video.
What are some of your favorite Thanksgiving traditions? You can share some of them, along with favorite recipes, at www.VeryBestBaking.com/Community.
Libby's Pumpkin Roll
Makes 10 servings
CAKE
1/4     cup powdered sugar (to sprinkle on towel)
3/4     cup all-purpose flour
1/2     teaspoon baking powder
1/2     teaspoon baking soda
1/2     teaspoon ground cinnamon
1/2     teaspoon ground cloves
1/4     teaspoon salt
3     large eggs
1     cup granulated sugar
2/3     cup Libby's 100% Pure Pumpkin
1     cup walnuts, chopped (optional)
FILLING
1     package (8 ounces) cream cheese, at room temperature
1     cup powdered sugar, sifted
6     tablespoons butter or margarine, softened
1     teaspoon vanilla extract
Powdered sugar (optional for decoration)
FOR CAKE:
PREHEAT oven to 375? F. Grease 15 x 10-inch jelly-roll pan; line with wax paper. Grease and flour paper. Sprinkle a thin, cotton kitchen towel with powdered sugar.
COMBINE flour, baking powder, baking soda, cinnamon, cloves and salt in small bowl. Beat eggs and granulated sugar in large mixer bowl until thick. Beat in pumpkin. Stir in flour mixture. Spread evenly into prepared pan. Sprinkle with nuts.
BAKE for 13 to 15 minutes or until top of cake springs back when touched. (If using a dark-colored pan, begin checking for doneness at 11 minutes.) Immediately loosen and turn cake onto prepared towel. Carefully peel off paper. Roll up cake and towel together, starting with narrow end. Cool on wire rack.
FOR FILLING:
BEAT cream cheese, 1 cup powdered sugar, butter and vanilla extract in small mixer bowl until smooth. Carefully unroll cake. Spread cream cheese mixture over cake. Reroll cake. Wrap in plastic wrap and refrigerate at least one hour. Sprinkle with powdered sugar before serving, if desired.
TIP:
Be sure to put enough powdered sugar on the towel when rolling up the cake so it will not stick.
Nutrition Information per serving: 370 calories; 150 calories from fat; 16g total fat; 10g saturated fat; 105mg cholesterol; 280mg sodium; 52g carbohydrate; 1g fiber; 43g sugars; 5g protein; 50% Vitamin A
Photo courtesy of NestlÈ