Ghostly Chocolate Pretzel Rods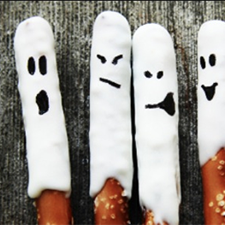 Halloween is only weeks away and festive fall treats are popping up everywhere. All though the various sweet and sugary temptations are hard to resist, you don't have to break your diet to enjoy the seasonal fare. Certified nutritionist, personal trainer and exercise physiologist, Franci Cohen, has provided this recipe for a fall food that won't break your belt.
Ingredients:
• 1 box salted pretzel rods
• 16 oz fine white baking chocolate
• An edible ink black baking marker
• Wax paper
Directions:
Melt chocolate in double boiler or on the stove.
Dip 1 end of a pretzel rod into melted Chocolate to cover pretzel approx. 2″ down.
Lay chocolate covered pretzels on wax paper-lined tray.
Repeat with remaining pretzels until all are covered in chocolate.
Place baking tray in freezer for 5 minutes until chocolate hardens.
Remove pretzel tray from freezer and using baking markers, draw scary ghostly faces on the pretzels.
Your ghostly pretzel rods are ready to eat!