Get to Know: Samantha Busch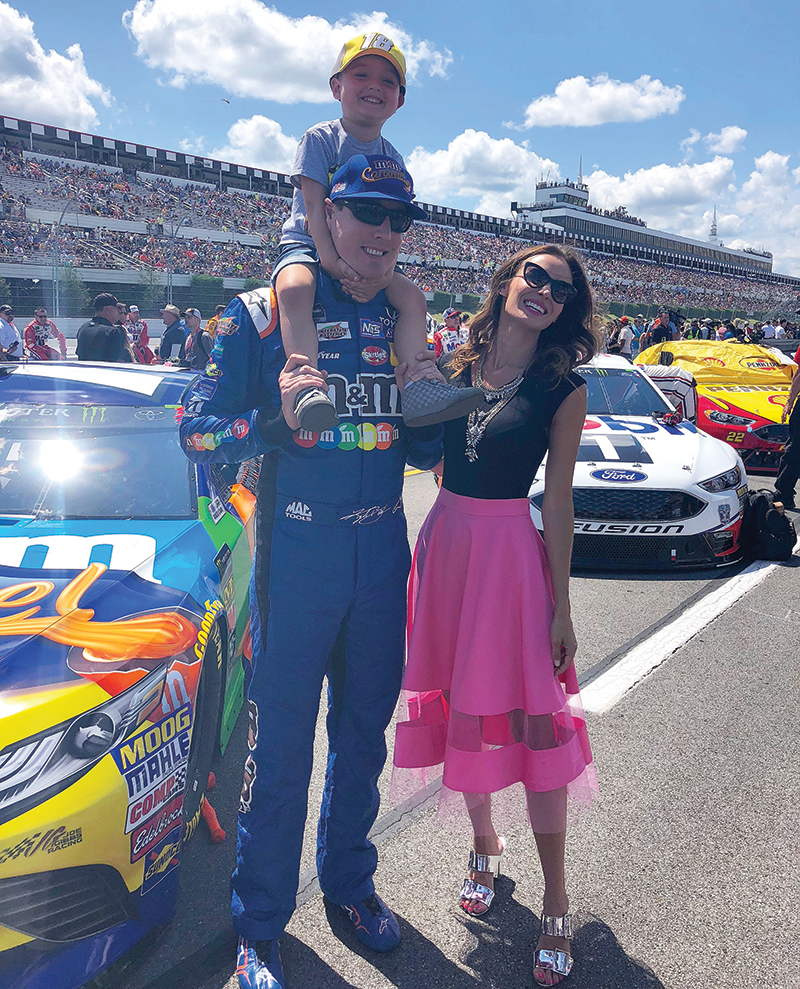 Samantha Busch, wife of NASCAR driver Kyle Busch, and mom to Brexton Busch, 3, is the head of the Kyle Busch Foundation and owner of Murph Boutique. She took a minute to discuss how she handles the fast lanes of life.
Where in Charlotte do you live? Where did you grow up? We live in Denver on Lake Norman. My husband grew up in Las Vegas and I grew up in Northwest Indiana, right outside of Chicago.
Tell us about your job. What do you like most about it? What are the challenges? I am the owner of Murph Boutique, an online contemporary women's boutique that has trendy and affordable fashion for all sizes. We carry fun pieces in sizes extra small to 3X. My favorite part of this job is that I handpick the clothing for the store. My biggest challenge is figuring out ways to set the store apart from others and continuously draw new clientele.
My other job is the executive director of the Kyle Busch Foundation. We started a branch of this called the Bundle of Joy Fund over three years ago when my husband Kyle and I struggled to have our son and ultimately had to go through in vitro fertilization (IVF). There are so many physical and emotional struggles with infertility, but what many people don't realize is the cost for one cycle of IVF is around $20,000 and most people's insurance does not cover it. Bundle of Joy Fund helps other couples pay for their IVF treatment at the Reach clinic in Charlotte, North Carolina. To date we have helped 31 families and have 15 babies born with two more on the way.
What's the hardest part of juggling family life and work life? The hardest part about juggling businesses and family is just that there is not enough time in the day. A lot of times I find myself spreading myself too thin. I am very hard on myself because I want to be a great mother and wife while also expanding and running my businesses to a high level. I feel like as moms we always put ourselves last, and even though I know that's probably not the right thing to do, I'd rather see my family happy and things running well than take time to relax.
What is your favorite thing about raising a family in Charlotte? The weather. We love to get outside to swim, hike, race — whatever it is and the weather is Charlotte is great for that.
Best advice ever received: I think the best advice that I've received and could give is to surround yourself with a great team. You have to accept that you can't do everything by yourself and it's about finding the right group of people, especially on the business side to collaborate with and be able to trust to handle responsibilities and to see your vision. On the family side, time flies so you really have to enjoy every moment. It feels like not that long ago Brexton was an infant and then in a blink of an eye he's suddenly an independent toddler.
Proudest parenting moment: There are many proud parent moments, but one that sticks out is one day at the park. There was a bunch of kids playing, including a child with special needs. Everyone was running around, playing and having fun. This little girl, who was around 6 or 7, fell down, scraped her knee and was crying. Brexton instantly ran over to her and gave her a hug and told her it would be OK, and that he and I would go find her mommy. Just seeing that in an instant he knew to go comfort her and take care of her was such an amazing moment to witness as a mom.
Lowest parenting moment: When Brexton was about 5 months old, he decided that he was going to wake up every 45 minutes in the middle of the night. This was torture for my husband and me. I remember one night in particular we were just yelling at each other. I was crying and we couldn't soothe Brexton. It just felt so hard and overwhelming. When you are sleep deprived, it's easy to lash out at one another as husband and wife but when you're so tired you should keep your mouth shut and help each other because fighting only makes it worse.
What are three things you can't live without? 1. My fitness equipment for working out.
2. iPhone
3. My GHD curling iron.
What is your favorite Instagram account? @kelseywells
Last book read? "An Unwanted Guest" by Shari Lapena
What inspires you? That feeling when you see someone's face light up with a new way of thinking. Whether that's giving hope to a woman struggling with infertility or inspiring a woman to step outside of her comfort zone.