Get to Know: Rachel Roff of Urban Skin Solutions
A chat with the founder of the medical spa and laser center, and the skincare product line Urban Skin Rx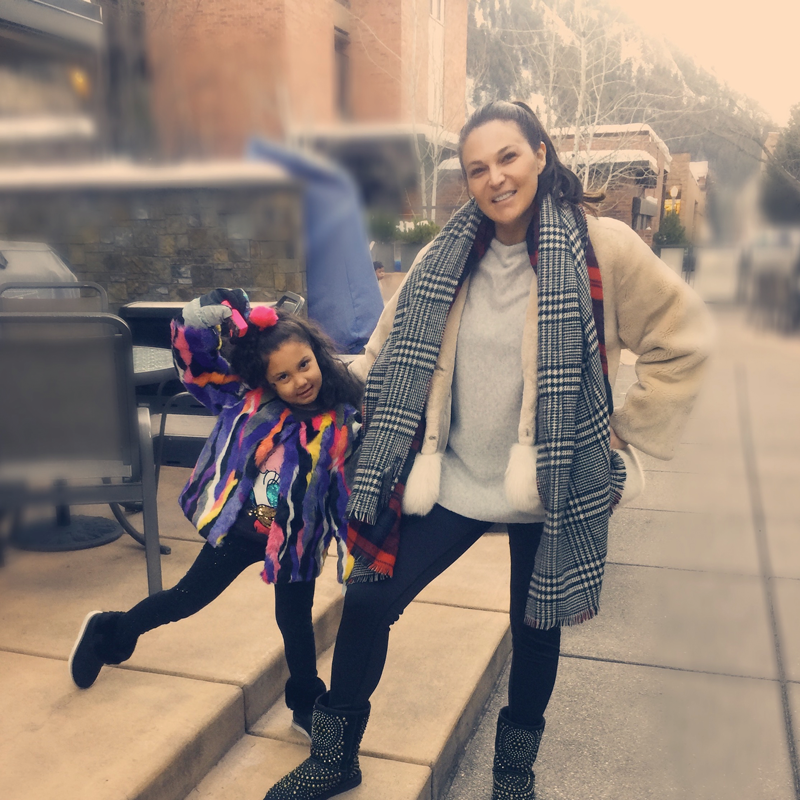 Rachel Roff is the founder of Urban Skin Solutions, a medical spa and laser center, and the skincare product line Urban Skin Rx. She and her daughter Rosie, 6, live in Dilworth.
Tell us about your job. What do you like most about it? What are the challenges? I am the owner and founder of Urban Skin Solutions, a medical spa and laser center that I opened in 2006. About five years ago, I started Urban Skin RX, a clinical skin care product line. Both businesses specialize in the needs of diverse skin tones, specifically darker skin tones. It has been an extremely hard but I have watched my dream, which started as a young girl, turn into an empire. My medical spa started with two employees and one laser in a 1,000-square-foot building. Twelve years later, we have 30 employees, six lasers, doctors on staff, our own pharmacy and a beautiful, 5,600-square-foot building. Urban Skin RX is now sold in Target, and is in more than 2,000 Ulta and CVS stores. It has come with a lot of sacrifice and many sleepless nights. Being an entrepreneur is about being solution-oriented and having extreme discipline. There are so many problems that will knock you down, and you just have to constantly get back up and work on a solution.
What's the hardest part of juggling family life and work life? I struggle with guilt. I'm constantly calculating the hours a week I've spent with my daughter to make sure it's enough. I travel for work to trade shows, meetings with retailers and speaking engagements. When I get home and want to relax or need to make up for hours I've missed in the office, sometimes my daughter is yearning for extra attention. While I feel like an amazing mother, I also realize that I'm often sacrificing the things I need for myself, however, I feel that the discipline I exhibit as a mother is paying off. Rosie is so amazing and well behaved.
Best advice ever received: Lead by example. I refuse to talk down about my looks in front of my daughter because I suffered from a really low self-image as a child. My staff may see me on the floor cleaning up at times. I want them to know that the same things I expect of them, I will do if necessary.
Proudest parenting moment: When my products went into Target, I kept saying to Rosie, "This is such a big deal," and she would always kind of shrug it off. When we go to Target, we check my shelf before we do our shopping. She kind of complains and says, "Not again, Mom." One day while shopping at Target, I started talking to an employee who had no idea about my product line or who I was. We were just talking about general stuff. All of a sudden Rosie says, "You know you're talking to Rachel Roff." Despite how embarrassing that was, it made me so happy because I knew that though she acts like what I'm doing is regular, she really does know it's a huge deal and is super proud of me.
Lowest parenting moment: One time, Rosie's father (who is my ex), and I argued in front of her. That was something I swore I would never do. She cried, and I felt beyond horrible. It was a very low moment, but I'm also proud it never happened again.
What is your favorite thing about raising a family in Charlotte? I love how easy it is to get around and go from one activity to the next. We can walk to the light rail or have lunch in Dilworth and then walk to Freedom Park.
What are three things you can't live without? Coffee, family and the gym.
Favorite Instagram account? @urbanskinrx of course.
Last book read: With what time? I read Entrepreneur and INC magazine each month.
What inspires you? Making a difference that will change history. I have never liked any form of inequality. Seeing a form of inequality in an industry I was so passionate about really motivated me. Bringing inclusivity to the skin care industry when so many people thought I was crazy has been really rewarding. I love proving people wrong.
Michele Huggins is the editor of Charlotte Parent magazine.