Get to Know: Ella Stone of Celestial Cakery and SWIRL
'I truly love what I've built and I'm thankful every day for the opportunity to continue baking.'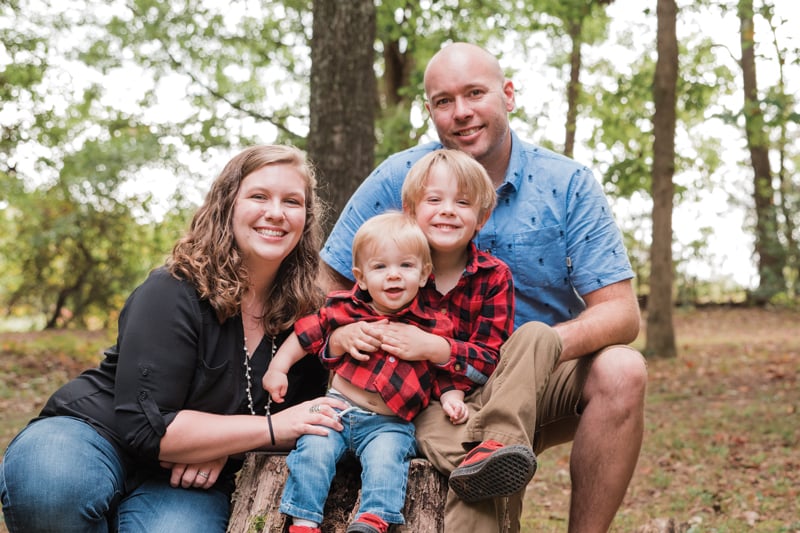 Ella Stone is the owner of Charlotte-based businesses Celestial Cakery and SWIRL. She and her husband Curtis Stone have two children, Theo, age 5, and Olly, age 1.
Where in Charlotte do you live and where did you grow up? I grew up just outside of Richmond, Virginia and moved to Charlotte to attend Johnson & Wales University. After graduating with degrees in baking, food service, and culinary arts I bought a house with my husband in the Oakhurst neighborhood and started baking from home as Ella's Celestial Cakes.
Tell us about your job. What do you like most about it? What are the challenges? Celestial Cakery is an award-winning wedding and custom cake bakery. Most recently, I opened SWIRL, which has a focus on made-to-order cupcakes, ice cream and assorted desserts. My favorite part is the look on someone's face when they see their custom cake for the first time or bite into a made-to-order cupcake. Being the boss also allows me the flexibility to take a day off or leave early without anyone's approval. I truly love what I've built and I'm thankful every day for the opportunity to continue baking.
Days are long, and I often have to swap family time for a cake tasting or delivery. The daily challenge starts at 7 a.m. when I get up to exercise, then get the kids ready for school, bake everything before the shop opens, answer emails and phone calls throughout the day, then host tastings for newly engaged couples before heading back out to pick up the kids, eat dinner, and fall asleep around midnight.
What is your favorite thing about raising a family in Charlotte? It's an awesome feeling to know that the city I'm raising my children in is also growing everyday. There is always a new park, new restaurant or new something.
What's your recipe for success to juggle family life and work life? Ask for help, there's no other way. My husband has incredible focus and determination that helps keep the bakeries and our family moving in the right direction. My mom lives next door and is always ready to play with my sons if I'm working late. My mother-in-law is on permanent retainer every Saturday for babysitting and has been one of the most inspiring and helpful people in my circle for years. I'm thankful for having enough people in my circle to lean on and continue doing what I love.
Best advice ever received: Lisa Toohey from "Cake Expressions by Lisa" gave me my first bit of incredible advice when she said "Buy a bigger mixer." It sounds so simple, but as a home bakery I was making 100-plus cakes and still using a small KitchenAid mixer. And Miranda Miller from "Got What it Cakes" told me to raise my pricing to reflect the work that I was creating.
Proudest parenting moment: There have been plenty, but if I narrowed it down to the best-of-the-best, I would say its every time my son Theo says he wants to be a baker when he grows up.
Lowest parenting moment: It's less of a specific moment and more of a daily struggle. When I had my first son Theo, I was able to devote a lot of attention to him as he grew. He only went to daycare a couple days a week, I breastfed for over a year, and in general felt like he was always close by. As my bakery has grown and split into two, I feel like my second son, Olly, is getting the short end of the stick. He goes to daycare five days a week, has to spend most Saturdays with a grandma because I'm working, I stopped breastfeeding before six months, and in general I find myself with far less time or energy to enjoy his company.
What are three things you can't live without? My kids (they replenish my energy and I wouldn't be doing any of this is if weren't for their hugs and kisses every day), coffee, and new restaurants (I'm a huge foodie).
Fave Instagram influencer: @thehayleycakes
Last book read: "The Witches of New York" by Ami McKay.
What inspires you? Other people's success. Seeing what other people are able to achieve lays the groundwork for what I know is possible, and inspires me to always do better than I did the day before.
Michele Huggins is the editor of this magazine.