Get to Know: Artist Tim Parati
A scenic artist, set designer and actor for Children's Theatre of Charlotte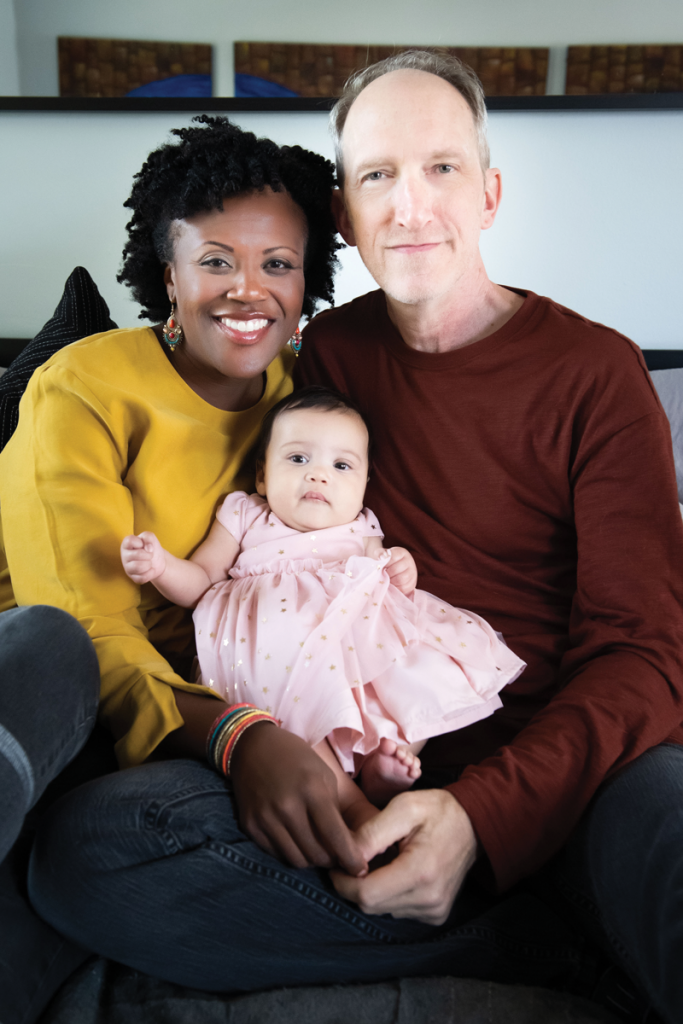 Tim Parati is a scenic artist, set designer and actor at Children's Theatre of Charlotte. He also is the artist behind the mural "Wilmore Gold Mine" on the wall at Max and Lola's Bodega on Mint Street in The Gold District. He and his wife Kim Parati are parents to Ava Luna, who turns 1 in August.
Where in Charlotte do you live? Where did you grow up? We live in Wesley Heights, which we love. It's a historic district, so new construction is very limited. The neighborhood is diverse and close to uptown. We are both Charlotte natives. I grew up in what is now Madison Park, went to Olympic High School and worked at the Park Terrace Theatre.
Tell us about your job. What do you like most about it? What are the challenges? I have worked as the resident scenic artist and sometime set designer at Children's Theatre of Charlotte for 15 years. It can be very challenging depending on the show. It's a wonderful place to work as we are always creating different worlds, such as Neverland, Narnia or Wonderland. My favorite moments are opening nights when we get to sit back and go on the journey with the audience. It feels great when the crowd reacts to a scenic element.
What's the hardest part of juggling family life and work life? Scheduling is difficult. My job is flexible, but also changes all the time. I can work very long days or even overnight. Kim, being a realtor with Savvy and Co., is working all the time. She can have showings in the evenings or open houses on the weekends, so we have to be flexible and juggle shifts.
Best advice ever received? My mother used to always say "be careful" when we were leaving the house or at the end of a phone call. I find myself repeating it to Kim all the time, and will no doubt pass it on to Ava Luna. I easily get distracted, so "be careful" reminds me to focus. It makes me stop, look, listen, breathe and be aware of my surroundings.
Proudest parenting moment? We are still very new to parenthood, so each day is filled with pride, however, the proudest moment of my life is the day Ava Luna was born. We started our family later in life and except for pets, I never took on much responsibility before getting married four years ago. When Kim became pregnant, I was nervous about being a good father, but the second our daughter arrived, my world changed. My dad passed away three months before we found out we were expecting. Remembering the way he and my mom raised me, my brother and sisters inspires me. I'm always thinking, what would they do?
What is your favorite thing about raising a family in Charlotte? The arts scene in Charlotte is thriving and we want her to be exposed to culture from all walks of life. Ava Luna has already attended a few shows at Children's Theatre, a performance by Play!Play! Theater, and went to the Arts and Science Council's CultureFeast. We plan to take her to art galleries and performances at Charlotte Ballet.
Lowest parenting moment? Sleep training. It's heartbreaking when the baby cries. We try to be strong and let her self soothe. She's making progress.
What are three things you can't live without? The obvious answers are my wife, my daughter and our pup Zydeco. They bring me joy, love and happiness.
Favorite Instagram account: I follow a lot of local artists and muralists to see the creativity and amazing work out there. And @thedogist makes me smile.
Last book read? "What to Expect When You Are Expecting" has been a solid prescience in our house.
What inspires you? The strength of family. Amazing visual art, dance, music and theatre. Traveling to somewhere new. The leaves of an oak tree blowing in the wind. Jazz. Memories of my parents. Success stories. The determination in our pup's eyes. Our daughter's smile. Love.
Michele Huggins is the editor of Charlotte Parent magazine.