Get Real With Wendy Herkey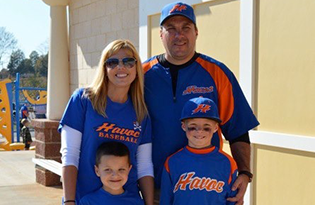 Quick stats: 37, executive producer for "Charlotte Talks" with Mike Collins on 90.7 WFAE and producer of "Charlotte Now" (also hosted by Mike Collins) on CW46, WJZY
Family tree: Lives in Huntersville with husband Todd, and sons Tyler, 9, and Ryan, 5
Favorite indulgence: Reading a novel and tuning everything else out — sometimes accompanied by a glass of pinot noir.
Favorite outing: Our idea of a fun weekend is at the ball field — my husband coaching, the boys playing and me as official family cheerleader and photographer.
Favorite place to eat out: Zoe's, and eeZ Fusion & Sushi in Birkdale Village
iPod: Podcasts of various public radio talk shows and my staples of Michael Jackson, Billy Joel and Elton John
Latest read: Stephen King's "11/22/63," but I'm also really into Tudor history – Henry VIII and his offspring are fascinating. 
In your DVR: We don't have one. We don't watch much TV and if we do, it's usually on kids' shows, but I like documentaries, home-improvement shows, and when I need a "reality" TV fix, my guilty pleasure is the Kardashians. 
In your bag: Full-on first-aid kit, iPhone, an extra iPod in case we get stuck somewhere and the boys need something to keep them busy, paper and pen, and pictures of my fam!
Can't live without: My family and friends
Stress buster: Quiet one-on-one time with the kids, a rare night out with the husband or monthly outings with my "mommy friends" who enjoy spending some of that extremely rare free time together (where we typically end up talking about our husbands, jobs and kids).