Get Real With Dee Grano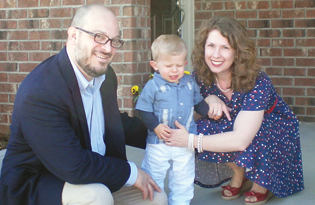 Quick Stats –
Dee Grano, 34, is the marketing director for The Light Factory Contemporary Museum of Photography and Film, a freelance arts writer, and active volunteer with St. Peter's Catholic Church and The Big Brew Ha Event Committee.
Family Tree –
Live ins NoDa with her husband Dan Grano and has one son Anthony, 20 months, and one dog Daisy.
Favorite personal indulgence:
On a good day, a massage. On a bad day, Nacho Cheese Doritos.
Favorite family outing:
Storytime at ImaginOn every Saturday morning.
Favorite local place to eat out:
Foskoskie's.
On your iPod?
Lots of Baby Einstein and Putomayo World Playground for Anthony, but for me Adele's album "21."
What you're reading:
"The 9 Ways of Working: How to Use the Enneagram to Discover Your Natural Strengths and Work More Effectively" by Michael J. Goldberg
Can't miss TV show:
"The Walking Dead" on AMC and "Justified" on FX
What's in your bag?
The funniest thing that I always have with me, at least when I am anywhere with my son, is a bottle of hand lotion called "Udder Cream." There is nothing special about it, but it makes Anthony laugh hysterically every time I take it out. It's a life-saver at restaurants.
Can't live without:
Lipstick! I just feel naked without it.
Favorite stress buster:
I sing.