Get Real With Angela Guyer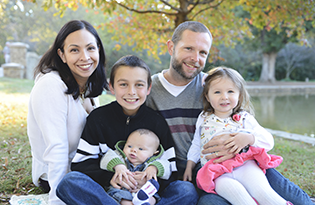 Quick Stats: 36, Change Management Consultant at Duke Energy and owner of guyerfamilyblog.com
Family Tree: Lives in Dilworth with husband Walt and children; Jacob, 11, Lily Grace, 2, Townes, 7 months, and dog Layla
Indulgence: A glass of red wine and dark chocolate
Favorite outing: The park, it's free and fun for all, Layla included
Favorite local eats: Bonterra
iPod: Jack Johnson, Mumford and Sons, Adele and Old Crow Medicine Show
Latest read: "Happiest Toddler on the Block"
DVR: "Modern Family," "Homeland," "Newsroom," and "Game of Thrones", plus "Mickey Mouse Clubhouse," and Dora, Diego and Strawberry Shortcake for the kids.
In your bag: iPhone, wallet, coupon binder, lipgloss, latex-free bandaids, snacks and M&M or Skittles
Can't live without: My iPhone! I'd be lost without my baby-log app and I'm obsessed with Instagram and Ruzzle. I also use it to keep up with my favorite blogs and Facebook friends.
Stress buster: Yoga