Frozen Lemonade Pie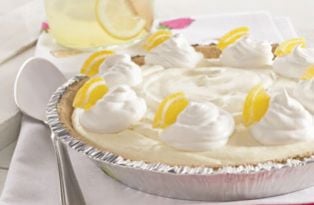 Makes 8 servings
1 can (12 fluid ounces) Nestle Carnation Evaporated Milk
1 package (3 ounces) lemon-flavored gelatin
2 tablespoons grated lemon peel
½ cup (3 to 4 lemons) fresh lemon juice
1 container (8 ounces) frozen whipped topping, thawed, divided
1 prepared 10-inch graham cracker crumb crust
2 candied lemon half slices, cut into 8 wedges (optional)
Microwave evaporated milk in medium bowl on high for 1 minute or until warm. Whisk in gelatin. Refrigerate uncovered for 30 minutes. Add lemon peel and juice; mix well. Gently whisk in 2 cups whipped topping. Pour into crust.
Freeze for four hours. Dollop remaining 1 cup whipped topping around edge of pie. Top each dollop with lemon wedge. Let stand at room temperature for 20 minutes before serving.
Tips:
• Sliced fresh lemon can be substituted for the candied lemon slices.
• 1 can (12 fluid ounces) Nestle Carnation Evaporated Fat Free Milk, 1 package (.3 ounces) sugar free lemon-flavored gelatin and sugar free whipped topping can be substituted. Prepare as above.