Fox on Fatherhood: Coach John Fox Talks Family and Sports
John Fox's thoughts about family life — on the field and off.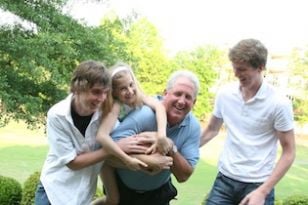 Some "kids" call him Coach. But four kids — Matt (20), Mark (17), Cody (16) and Halle (8) — call him Dad.
John Fox, head coach of the Carolina Panthers, is a down-to-earth family man with character and a whole lot of energy for guiding young people on a path to greatness, whether they're "NFL kids" or his own. A timeout with the Fox family— John, wife Robin, and the kids — filled me in on what it's like to be an NFL Coach with a hectic schedule and big loving family. These are his thoughts about family life — on the field and off.
Coach Dad
"Being a coach — and a dad — is a lot like being a teacher," Coach Fox explains, when asked to compare coaching and fatherhood. "In the NFL, I'm often in charge of other people's kids. And even if you think you know the 'Do's and Don'ts of Parenthood,' things don't always work out like you planned."
Fox cites the highly-publicized troubles of Eagles Coach Andy Reid, whose sons had drug problems that landed them in the jail. "You can be the best parents in the world, support your kids and try to do everything right, but you can't always control the outcome. It's that way with the NFL kids, too," he continues. "In the end, you guide them and help them grow. You give them the tools — try to teach them the 'out route.' You do the best you can do."
NFL Wisdom
"Never give up!" That's the most important character lesson he's learned from professional sports and he hopes to pass that spirit on to his kids. "Even when you have a 1-7 start, don't quit."
Fox believes there's always a chance to come out on top, if you hang in there. "There are so many great guys that come to mind — Mark Fields and Sam Mills." (Mark Fields is the 2002 Carolina Panthers linebacker forced to sit out in 2003 due to Hodgkins disease, who came back to play another season. Former Carolina player Sam Mills, who continued to coach after being told, in 2003, he only had a few months to live, became an inspirational force for the Panthers in their Super Bowl XXXVIII bid before he passed away in 2005.) "They are such an inspiration, and taught me to keep pounding away … no matter how tough it looks."
Quality Time
With a busy NFL career and a full travel schedule, there are always sacrifices. The most important thing is quality time.
"I can't always be around, and 11 months of the year my schedule may be crazy," says Fox. "But I always take one month off and we spend it together as a family." Typically they head off to their favorite beach spot, Marco Island, Fla., and everyone comes along. Even Matt, now away at college, makes the trip. "As a family, I think we're lucky," Fox says, "most people aren't able to get a month off at one time to be together with their kids."
Career Moves
Early in his coaching career, the Fox family moved frequently. Robin recounts the time when, just two weeks after moving into their new California home, John called and announced it was time to start packing — again. He had just left the Oakland Raiders, after only a few months on the job. In the NFL, it's common to move around, but it's still not easy.
"As a parent, you feel awful when your job decisions impact your children. I remember back when Matt was really young, we were pulling away from our house, moving to San Diego, and Matt was looking out the rear window of our car crying his eyes out. In the driveway was his best friend Christopher, standing there waving," Fox recalls. "It was hard. You hate to see that. But after that, we had five good years in New York and now we're going on seven years in Charlotte. I feel blessed."
Advice for New Dads
It's sometimes hard to make the transition from work to home, especially for career driven men who find themselves answering to the call of "Daddy." Fox knows this from experience. His advice for young dads? Learn to leave work behind.
"You get out what you put in," Fox says. "You've got to learn to turn it off, come home and put on your 'Dad face,' and sometimes, especially for career-focused young guys, that's not easy. You really have to work at it." He admits it took some time before he truly learned how to switch gears when he came home.
Kids and Sports
One would suspect the Fox kids to be sports fanatics, but they're not. Does it bother him that no one in the Fox family is picking up the pigskin to carry on the tradition?
"Not really. Like all parents, Robin and I wanted to expose our children to as many activities and experiences as possible." The boys, Matt, Mark and Cody, have tried their hand at several sports, but as a dad, Fox hasn't pushed any one pursuit on them. "Now, Matt, the oldest who's at Elon, is really interested in playing the guitar. He loves it. And Mark, well he's quite the artist. Both he and Cody, have taken up kickboxing." (The two boys were just returning from the gym, when I arrived for our interview.) And what about Halle? Their 8-year-old daughter, is still trying out new things.
She dances, plays soccer and likes cheerleading. (A "Top Cat" in the making?)
Father's Day Memories
When speaking with John Fox, you feel his connection to family. He beams proudly as son Matt and Cody explain their invention, soon to be featured on local television show "Everyday Edisons," and he smiles ear-to-ear when daughter Halle gives him a big hug.
So how will he spend Father's Day? Jokingly, he says … "You mean 'shirt day?'" and Robin, seated nearby, laughs. "I call Father's Day, 'shirt day' because I always get a shirt. Every year!" It's become the running joke of the family, but Fox doesn't seem to care. "I always trained my kids to understand the importance of Mother's Day. Each year, I gets the kids together and we go to the store to pick out a gift for their Mom."
To Fox, Father's Day isn't such a big deal.