Find Time for Fitness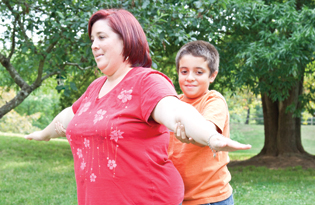 "I don't mind being sore," says Kelley Fluharty. "I actually like that feeling after a workout because then I know I got something out of it."
This can-do attitude is a dramatically new perspective coming from the busy, single mom who just identified finding time to get to the gym as one of the biggest hurdles in getting fit.
Fluharty and her son Christopher Ortega are only a few weeks into the Fit Family Challenge, but already the mother-son duo have identified noticeable changes in their way of life.
"For me, it's been a total mind shift," says Fluharty. "Fitness has become a priority, something I want to do every day because I'm thinking about it more." Even Christopher is on board. The active 11-year-old has taken special interest in following his mom's lead to "eat clean" by learning to read ingredient labels.
Fitness expert Paul Sklar of Prescriptive Fitness paid the Fluhartys a visit to discuss goals, obstacles and in-home workout tips. "He took us through a quick 15-minute workout in the living room, and I was already sweating," says Fluharty. "I was sore the next day!"
The trick to working out at home, says Sklar, is to rely on your own body weight for resistance. He walked Fluharty and her son through a series of squats, planks, stair climbing, pushups and partner work that they can do together without any equipment.
Under Sklar's guidance, Fluharty will pair at-home physical activity with gym sessions four days a week.
Though Fluharty was hesitant at first to take time out of her day for the gym, she says it has actually been easy to stay committed. "It's been a combined process of Christopher growing up and being more independent, and me finding time for myself. But at the same time, we're going through it together."
Katie Levans lives in Charlotte and is studying to be a registered dietitian. She loves sharing advice that helps people lead healthy, happy lives.