Family Travel: Azul Beach Hotel, Riviera Maya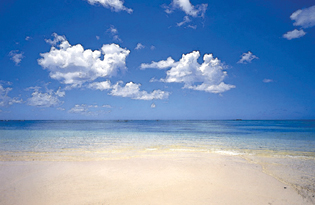 Remember the vacations you took before you had children? No bulky baby equipment to lug. No worrying about whether the kids were on their best behavior. And not a single, solitary thought about grilled cheese sandwiches or chicken nuggets. Believe it or not, you don't have to wait until your nest is empty to enjoy that kind of getaway again.
Azul Beach Hotel, an all-inclusive family resort in the Riviera Maya region of Mexico, puts postcard-worthy vacation memories well within parents' reach. Although it might not be considered inexpensive, a visit to Azul Beach Hotel won't set you back as much as you might think. Summer 2012 promotions at Azul Beach Hotel include a "Sunsational Summer" deal that allows two children to stay free with their parents. When you factor in the free food, beverages and recreation, it's an affordable option for many families. Visit www.karismahotels.com for details.
The boutique resort, tucked away off the highway, just a short 20-minute drive from Cancun International Airport, has a definite "hidden gem" quality. With outstanding service, a surprising variety of gourmet restaurants and stunning landscaping, Azul Beach Hotel offers a relaxed, kid-friendly version of decadence that luxury-starved parents will appreciate.
Dreamy Accommodations
With just 148 rooms and suites, the property is small by some standards, but we found it pleasantly manageable – and immaculate. Basic accommodations are similar to hotel rooms; suites feel more modern and upscale. The family suite offers a unique trundle bed setup that comfortably sleeps three children under the age of about 12 – unless they're tall, in which case their feet will hang off the end of the bed! If your kids are water lovers, think about booking a swim-up suite. Mom and dad can relax on lounge chairs or get ready for dinner while the little ones splash in a pool that's adjacent to the private veranda.
Phenomenal Food
Azul Beach Hotel and all six of its sister properties, owned by Karisma, kick the all-inclusive concept up a notch with a signature "Gourmet Inclusive" program. Separate kids' menus at all five of the resort's restaurants allow chefs to please the picky eaters without sacrificing the tastes and textures that the grown-ups savor. At the breakfast buffet, a special kids' serving table puts waffles, French toast and pancakes down low so children can help themselves. Azul Beach Hotel even stocks jars of Gerber baby food at every restaurant and at the poolside snack bar for quick access throughout the day.
Daily buffets on the beach simplify lunch and afternoon snacks. Parents who would rather not drag the kids away from their sand castles to have a sit-down lunch in a restaurant can feed the family without a fuss. There's also an extensive 24-hour room service menu in case you don't feel like leaving the room at all. For dessert, one word: churros.
Super-fun Kids' Activities
The all-inclusive family resort offers plenty of fun to keep kids busy during the day. Supervised activities for children 12 and under include beach soccer, story times, crafts and other daily programs. Because Azul Beach Resort is on the small side, the kids seemed to make friends quickly and found familiar faces at every turn.
Thanks to unique partnerships with Fisher-Price, My Gym and Lego, you'll see familiar mom-approved brands everywhere you look at this family resort. There's even a "toy lending library" for tots who want something to play with in their rooms.
Above and Beyond
Little touches – swings on the beach, cute (and clean) booster seats at almost every restaurant table and comfy family-sized lounges in public areas – make families feel welcome and relaxed. Equipment and essentials for babies and children are yours for the asking, so you won't have to check your stroller or portable crib on the plane. The equipment loaner program is popular, so you may want to call ahead to make sure they have what you need and ask to have the items waiting in your room when you arrive.
Cathy Ashby has been writing for parenting magazines since 1993. She visited Azul Beach Hotel in March 2012. She still dreams about the churros.

7 Insider Tips:
Safety – At the time this article was written, there were no warnings issued by the State Department about travel to Riviera Maya in Quintana Roo, Mexico. Please visit http://travel.state.gov/travel/ for updated information.
Lomas Transportation, www.lomas-travel.com – Safe and comfortable airport transfers are available in the form of a shuttle van or private car. Spring for private transportation if you can; you'll feel like international VIPs! The company has a representative on-site at the resort every day to help you arrange day-trips and excursions, too. (Transfers and excursions are not included in the resort fees.)
Cabana Reservations – Oceanfront cabanas, or palapas, are free, limited and reserved on a first-come, first-served basis. The reservation book opens at 3 p.m., so the line starts forming at 2:45 p.m. It's worth the wait. No question.
DVD Library – All of the rooms have DVD players, but if you don't get to the resort's movie collection early, the pickings are slim. Tuck a few favorite films or new releases into your luggage or you'll find yourself choosing between Mexican sports and bad closed-captioned American TV.
Cash – Although tips are not required or requested at the resort, you may want to bring cash for staff members who provide service that is above and beyond. (We found this to be a common occurrence at Azul Beach Hotel and wished that we'd brought more cash.)
Construction – Ongoing improvements to the property mean there is sometimes construction to contend with. When booking, ask about proximity to work areas.