Family Outing for the Annual Christmas Tree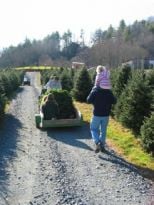 They start coming up the mountains in the middle of November, and they keep coming till the last Christmas carol is nearly sung. Each year, every year, the annual pilgrimage begins. And according to most calculated calculations and the best guesstimates among the folks who grow trees, when people head back home from the North Carolina High Country, they take with them close to 13,000 mountain-grown Christmas trees tucked in their trunks or tied to their car tops — headed for living rooms and hearth sides all across the land.
They come looking for one thing: The Perfect Christmas Tree.
It's hard to know what makes a Christmas tree perfect. Christmas trees are choices of the heart. There's always one that stands out from the rest, one that calls your name.
Each one is different. There are the short stocky ones and quirky little jolly ones. Many people like the tall and stately ones.
There's always an Aunt Bea sort of tree, broad across the beam. And usually there's an Uncle Oscar, lean and sparse. And then there are the trees that took a twist or a turn, the funky trees that feel just right. Or the ones that missed the train for perfection and ended up with the perfect space to hide a secret present or tuck a teddy bear. Finally, there are those with perfectly symmetrical perfection.
"There's a tree for everyone," says Kirby Maram, who, with her husband, Nathaniel, has sold thousands of trees from her "What Fir?" tree farm on Rich Mountain. "We've had trees we thought nobody would buy, and then somebody comes in and says he really wants a 'Charlie Brown tree,' and he goes pick out a tree you'd think just nobody could love.
"If we don't have the tree that someone wants, we'll refer them to someone who does" continues Maram. "Tree farmers are a cooperative bunch. We like to help each other out. With close to 30 choose-and-cut farms in Watauga County alone, and many more in Ashe and Avery counties, there's sure to be a perfect tree for everyone."
Some folks don't have much space, so they want a skinny one. Some want their tree in the middle of a room and seek the fullest tree they can get.
"With all the tall ceilings nowadays, a lot of people want 10- and 12-foot trees. From seed, it takes 16 years to get a tree to 10 feet," says Maram. "Each year, we have to decide how many fields we're going to open, and how many we want to let grow for next year." Some fields are set aside each season for Christmases yet to come.
For many folks, gathering up the clan and heading to the mountains to pick a Christmas tree has become the opening event of the Christmas season.
"Oh, they come from as far away as Miami," Maram says. "We've had them come in from the Midwest. They come to pet the alpacas and hike the mountains and skip rocks on our ponds — they could fish in our ponds, but by the time it's time to pick Christmas trees, the fish usually have gone to sleep."
They come to walk fields where deer sleep and rabbits run.
"Last year, a guy proposed here," Maram reflects. "He called ahead of time and said he wanted to. I'm not sure how he got that ring up in the tree (to surprise her), but he was down on his knee anyway."
And then, there are those who return year after year to the same farm, where the owners and staff have become friends and family over time. Many gather their families at tree farms for reunions and picnics and just plain fun.
There as many different adventures as there are farms. Some are mom-and-pop farms, where the trees grow in a small patch just beyond the garden in the backyard. Others cover mountainsides and spill into the valley, field after field with trees lined up, pruned and perfect, standing ready to be picked and tied carefully onto the car. Many tree farms also offer wreathes and Christmas roping.
Many farms offer hot apple cider, and make hot chocolate — when they can keep it coming. Others offer cookouts, hot foods and places to picnic. Some farms have gift shops, Christmas shops and craft shops filled with the work of local artisans. Some offer hayrides and farm critters to meet and pet, not to mention a genuine outhouse or two.
Swinging Bridge Farm in Deep Gap has "a swinging bridge over a meadow abyss." In recent years, some farms have begun to offer guest cottages and delightfully converted barns for folks who want to stay the night on the farm, to feel a winter mountain morning and watch a dark night sky, to meander the farm slowly.
Some folks stay a day, some a weekend. Some come for an entire week. By the end of the season, those farms help fill the winter larder for many mountain folk — not only the farmers, but waiters and crafters, innkeepers and employees of service stations, gift shops and galleries.
Christmas trees have kept small farms going in these mountains when spiraling production costs and price pressures from industrialized operations have nearly eliminated the small family farm from the American landscape. The trees save the farms and keep the farmers on the farms.
When you ramble across these farms, it is evident what they continue to save — evident in the old barns and out buildings, the rock walls and bits and pieces of old fencing. Evident of a time past and a time still present, where folks come to find the perfect tree, and roam the fields, and come to know the mountains where Christmas begins.
"Oh, it's hectic in the beginning," says Kirby Maram, "you always wonder if you have enough on hand for everyone. But once the people start coming, everyone is happy. Everything is joyful and playful."
And Christmas begins.
Deidra Smith is a freelance writer in Boone. She can be reached at deidrajsmith@gmail.com