Family Medicine Choices: Concierge and Direct Primary Care
Health care gets personal — and goes 24/7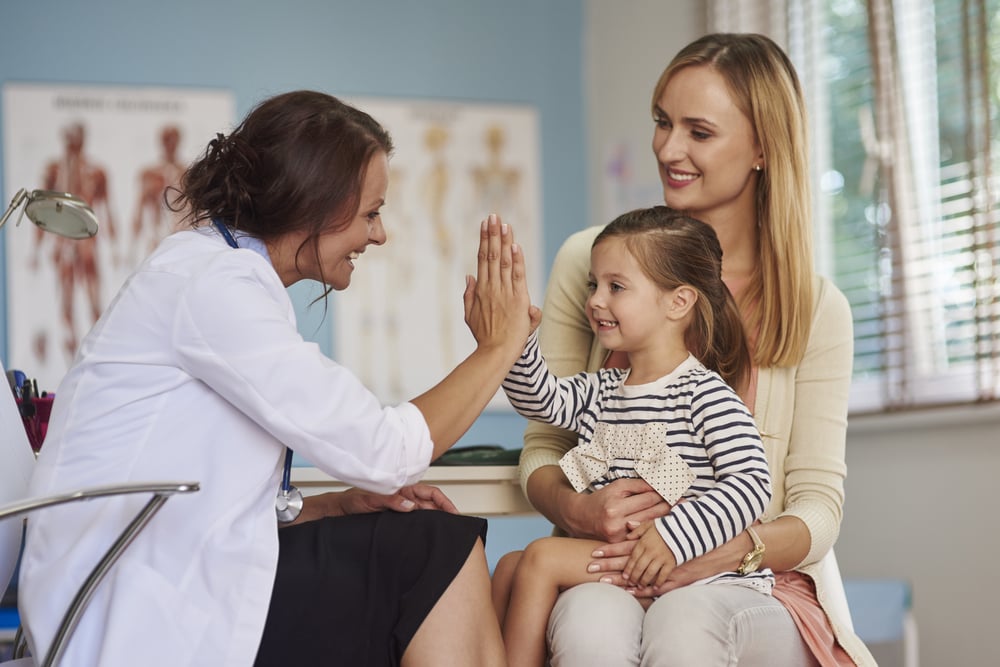 When Michelle Cardillo's son, who is severely allergic to insect bites, was bitten by fire ants, she texted a photo of the bite marks to her pediatrician in Apex. Dr. Kimberly Ramsdell of Ramsdell Pediatrics called her back "immediately," told her the child was not suffering from anaphylactic shock, and instructed her to give him Benadryl right away.
"Dr. Ramsdell texted me first thing next morning to ask how he was doing," Cardillo says. "How many doctors do that?"
The answer is, not that many. But there are a few, and the number is growing. These are concierge or direct primary care doctors who provide the following services to a limited membership of patients for a monthly or yearly fee:
Same-day appointments
24/7 availability by phone and text
Emergency after-hours appointments either in-home or at the office
No wait time in the office
Extensive and unhurried checkups and exams
Concierge and primary care doctors believe they are doing what all doctors want to do — provide patients with in-depth, attentive and, for the most part, proactive rather than reactive service. The reviews, unsurprisingly, are glowing.
A Closer Look at Concierge Care
For Vernon Menard of Charlotte, concierge medical care is a "non-negotiable no-brainer." He and his wife are busy entrepreneurs who have a 5-year-old daughter and became members of Signature Healthcare, a concierge practice in Charlotte that opened this past June, for the convenience of same-day appointments and no-wait visits. The practice's focused and unhurried appointments allowed the Menard's doctor to really get to know them, spot a serious misdiagnosis and quickly address health scares, even when the Menards were conducting business in Peru.
Many people associate concierge care with extreme wealth. Certainly there are doctors like Dr. Howard Maron, who, in 1996, was one of the first to offer concierge care and currently charges patients a five-digit membership fee. A Jan. 14, 2009 Forbes magazine article reported that, at that time, Maron was charging individual patients an annual fee of $15,000 and a family of four $25,000 at his Bellevue, Washington, practice, MD2 (pronounced "MD squared"). But there are an increasing number of doctors who are offering similar services at much lower rates — typically around $1,500 per year.
Cardillo says the time she has saved not waiting in doctor's offices, the trips to urgent care she has not had to make and the peace of mind she has about her family's health "more than pays for a membership fee."
A Variation: Direct Primary Care
Direct primary care, commonly referred to as DPC, is an increasingly popular variation of concierge care that has been called "concierge care for the masses." The main difference is that concierge doctors accept insurance, while DPC doctors opt out of insurance coverage and require direct payment. By avoiding the overhead costs of billing, as well as the practice restrictions associated with insurance, DPC doctors are able to provide services at a reduced rate, with average memberships ranging from $25-$85 per month, according to a 2015 study by The DPC Journal.
Last year Dr. Amy Walsh opened "Doctor Direct," a DPC practice in Raleigh. Her membership fees range from $50-$80 per month. Memberships for ages 5-19 are $15 per month. So a family with two parents and children could get full-service, concierge-style health care for $130-$190 per month.
"I have a plan with Dr. Amy," says Lauren Lemke, whose youngest son has asthma. "When his breathing is going downhill, I text her and she says, 'OK, I want to see him in an hour.' And when my oldest son got a deep chest cold, Dr. Amy saw him on a Friday, and again on Sunday. On Monday she took an X-ray in her office — he had pneumonia."
Walsh says this has been one of the most rewarding years of her 20-year career. "This is family practice at its finest, where the doctor and patient work as a team, and the doctor interacts with patients rather than a computer screen. Not a lot of people — doctors or patients — know about it yet, but it just makes so much sense."
Walsh did some of her training with Dr. Brian Forrest, who runs Access Healthcare in Apex. He started using the direct care concept in 2001, and says only in the last few years has the model really caught on.
"It's exploding," he says. "There are thousands of practices across the country, with new ones showing up on Google Alert almost every day." Since DPC was a new concept 15 years ago, this is a huge jump.
"I've got a patient who is homeless — it's the only health coverage he can afford," Forrest says. "And I've got a patient who is a multi-millionaire — it's the only health coverage he has found that provides the level of attention he wants. I can provide them with the exact same level of care. Where else could I do that?"
Pediatric DPC for infants and toddlers is trickier because of the cost of immunizations. While DPC and concierge practices are able to dispense medicine at wholesale prices, the costs of immunizations are fixed and are typically covered by insurance. Thus, some DPC practices only offer services to children ages 5 and older. "It just doesn't make financial sense for either the doctor or the parents to provide direct care to really young kids," Walsh says.
Concierge practices, which work with insurance companies, don't have the same limitations.
The Physician's Perspective
Doctors are as enthusiastic about these alternative practices as patients.
Ramsdell started her concierge practice in 2016. She says she loves having unlimited time to work with families on whole-health issues.
"This practice has allowed me to keep updated by regular texts with a teenage patient being treated for depression," she says. "And I've had time to research issues and have kept patients from having to see a specialist."
This luxury of time markedly contrasts to other common pediatric practice experiences. Surveys featured in an August 2014 Wall Street Journal article suggest that increasing wait times — whether waiting days to set up appointments or hours waiting in offices — and decreasing appointment times (the national average hovers around 15 minutes for a checkup, according to the Wall Street Journal article) have led to patient and doctor dissatisfaction. A Kaiser Family Foundation/Commonwealth Fund 2015 national survey of primary care providers supports those findings.
"There's a lot of physician burnout," says Katherine Restrepo, Health Policy Analyst for the John Locke Foundation in Raleigh and a frequent contributor to Forbes magazine. "You get the sense from doctors that they are frustrated that they don't have time to treat their patients holistically."
Restrepo believes that by spending more time at the front-end, doctors can help patients manage their health care better by reducing risks and concentrating on lifestyle, enabling them to avoid unnecessary drugs and visits to specialists and emergency rooms.
"It is a wonderful experience to have that time with each patient," says Dr. Laura Sinai, who opened Signature Healthcare in Charlotte. "For the first time, I've been able to incorporate all of the standards of care the AAP (American Academy of Pediatrics) recommends for a wellness visit. You cannot fit that into the 8-12 minutes you have with patients at a big practice."
Sinai cited a recent study by the AAP that looked at how much time pediatricians spent talking with teen patients about sexual health and, she said, "all the millions of issues involved with that! And a great majority said 'zero' time. Those who squeezed it in? Forty seconds! And what about teens and driving safety? And nutrition? I could spend an hour on any of these topics. We all should."
It can be difficult for patients to leave behind the comfort of a longtime physician and the regular habit of co-pays and specialist visits, but once they do, many doctors find that patients are pleased. Forrest says several of his new patients told him they learned about his practice at a Durham Bulls game.
"I was confused," he says. "We don't do any advertising with the Bulls."
When he asked the patients, he was told there was a woman who stood up during the seventh-inning stretch. "She was passing out our business cards," he says, "telling everyone that if they were done being treated like cattle at their doctors' offices, it was time to save money, get healthy and try DPC."
Concierge and Direct Primary Care Perks
Because doctor salaries are fully covered by membership fees, both concierge and DPC practices can afford to provide patients a few perks, such as:
In addition to 24/7 access and same-day appointments, many practices offer house calls to patients who need them at no extra charge.
Many practices dispense medication at wholesale prices from their offices. "We can provide prescriptions of Amoxicillin for $2 each," says Dr. Brian Forrest, who runs a direct primary care practice, Access Healthcare, in Apex. "We wouldn't need to charge our patients for an item that inexpensive — we would just consider it part of our overhead."
Many practices are also able to provide a number of in-house procedures and tests, either for free or at reduced rates. These services may include X-rays, blood tests, urine tests and minor wound treatments such as stitches and lesion removals.
Doctors are able to spend time talking with patients about holistic health issues, such as social media use or sexual health with teen patients. Vernon Menard, a member of Signature Healthcare in Charlotte, says his daughter has not experienced any unusual health issues, but her wellness checkup was like nothing he had experienced before. "Dr. (Laura) Sinai went through questions I'd never thought of, like what kinds of food we eat. She knew we have a farm, so she asked about raw milk and suggested that we avoid raw milk and raw milk cheese with our daughter," he says. "She asked about wildlife around the farm and suggested animals we might want to watch out for. She asked about firearms and gave us safety tips. That's good stuff."
Kids seem to like the personalized care as well. Since there isn't a long wait, going to the doctor is less of a chore. They always see the same doctor and receptionist, and they appreciate the tech connection. If something isn't right with their health, they can just take a photo and/or send a text to their doctor.
Potential Concierge and Direct Primary Care Drawbacks
Concierge and direct primary care are not substitutes for health insurance. The membership fee does not cover out-of-office visits to specialists, emergency room care, hospitalization, major surgery or high-tech diagnostic tests. A concierge doctor works with patients and insurance companies, so depending on a patient's coverage, 50-80 percent of the overall costs may be recovered. A DPC provider does not work with insurance providers. All patients should have a high-deductible insurance plan to cover bigger health issues, in addition to their concierge care or DPC membership.
Does growth of concierge and direct primary care limit the pool of family practice doctors? Some critics say this type of care puts a further squeeze on the already limited number of family practice doctors available for patients, since membership-only doctors restrict the number of patients they take. However, doctors love it. Restrepo predicts that doctors who might have retired from exhaustion in their early 50s might choose to practice another 15 years as a concierge or DPC physician. Also, whereas physician interest in family practice work has decreased over the last 20 years, a recent 2016 Academy of Family Physicians medical residency match showed a sharp increase in primary care matching, attributed by many in the profession to an interest in DPC.
Barriers to entry. While concierge and DPC doctors say previous colleagues have expressed interest in joining these alternative practice models, it can be hard to leave a busy and familiar practice, no matter how unfulfilling it might be, for something new and uncertain. "Ninety percent of doctors I know are really interested, but they're terrified to try it," says Dr. Kimberly Ramsdell of Ramsdell Pediatrics in Apex. This means there are not that many out there yet, with only 22 DPC offices in North Carolina so far. (For an interactive map of DPC offices, go to dpcfrontier.com/mapper.)
Caitlin Wheeler is a freelance writer living in Durham.