Family Health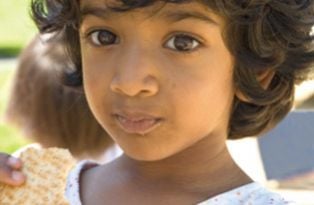 Keep Baby Moving
Just like adults, babies need to stay as active as possible. Here are tips to promote movement from the Nemours Foundation:
• Limit the amount of time Baby spends in a car seat, stroller or crib,.
• Allow Baby to spread out and move in an area that's safe.
• Give plenty of supervised tummy time to prepare for crawling.
• Help Baby get onto his or her hands and knees.
• Place a toy just out of Baby's reach to encourage stretching and crawling.
• Promote walking by letting Baby hold onto furniture or your hands as he or she takes steps.
For more information, visit www.nemours.org.
Scooby Doo and Yummy, Too
Is your child more willing to eat a specific food if the packaging is adorned with Dora the Explorer, Shrek or another popular cartoon character? According to a recent study published in Pediatrics, the official journal of the American Academy of Pediatrics, children are influenced by packaging.
In the study, 40 children ages 4-6 tasted three foods (graham crackers, gummy fruit and carrots) in packages both with and without a popular cartoon character. The child taste-testers thought the character-packaged graham crackers and gummy fruit snacks tasted significantly better. The results of the taste test for the carrots was not as significant. However, for all three snacks, when kids were asked which they would prefer for a snack, they overwhelmingly chose the snack with a character, suggesting the characters influence their decision even if there is no difference in taste.
For more information, visit www.aap.org.
Monitor Infants for Liquid Vitamin D Overdose
Vitamin D promotes calcium absorption and plays a key role in the development of strong bones. And while vitamin D supplements are recommended for many infants, especially those who are breastfed, too much vitamin D can cause many problems, including nausea and vomiting, loss of appetite, excessive thirst, frequent urination, constipation, abdominal pain, muscle weakness, and muscle and joint aches, as well as more serious consequences, such as kidney damage.
The risk for overdose comes into play because some liquid vitamin D supplement products on the market have droppers that could allow parents and caregivers to accidentally give harmful amounts of the vitamin to an infant.
The American Academy of Pediatrics recommends 400 international units (IUs) of vitamin D a day for breastfed and partially breastfed infants.
"It is important that infants not get more than the recommended daily amount," says Dr. Linda M. Katz, the interim chief medical officer for the Food and Drug Administration's Center for Food Safety and Applied Nutrition. To avoid vitamin D overdose, the FDA offers the following recommendations:
• Check with your doctor before giving any vitamin D supplement.
• Keep the vitamin D supplement product with its original package and follow the dosage instructions, using the dropper carefully.
• Use only the dropper that comes with the product, because it is manufactured specifically for that product.
• Ensure the dropper is marked so the units of measure are clear and easy to understand.
• Talk to a health-care professional if determining the correct dosage with the dropper is difficult.
For more information, visit www.fda.gov.
High School Friends May Contribute to Better Grades
Who teens hang out with actually may have a direct impact on their academic success. The results of a study published in the Journal of Research on Adolescence suggest students with higher grade-point averages have more school friends than out-of-school friends. The study, conducted in Los Angeles, included 629 high school seniors who completed a questionnaire and kept a record of activities, such as time spent studying and time spent with school friends and out-of-school friends.
"We found that within an adolescent's friendship group, those with a higher proportion of friends who attended the same school received higher grades," says Melissa R. Witkow, an assistant professor of psychology at Willamette University. "This is partially because in-school friends are more likely to be achievement-oriented and share and support school-related activities, including studying, because they are all in the same environment."
For more information, visit www.s-r-a.org.
Myra Wright is the editor of Piedmont Parent, a sister publication of Charlotte Parent.