Family Health: Expectant Fathers, Flu Vaccine and Measles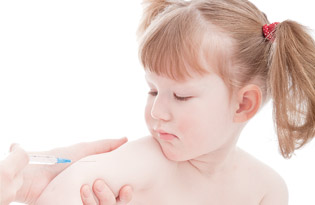 Expectant Fathers Are Stressed Out, Too
A recent study has revealed stress related to the pregnancy of their partners can affect the health of expectant fathers. In the study, which was reported in the Journal of Advanced Nursing this spring, a test known as the Prenatal Psychosocial Profile (PPP) was given to 132 expectant mothers and fathers. The PPP, a standard psychological assessment, is typically given only to expectant mothers in order to measure the stress they experience during pregnancy, as well as perceptions of their husband or partner's support and their self-esteem. The significance of psychological and social factors in women during pregnancy has been well documented (emotional and mental distress in pregnant women is associated with poor infant health), but there are relatively few studies examining these factors in men.
The test proved men process pregnancy-related issues – including family change and the sense of feeling overwhelmed – as financial stressors, whereas women consider them emotional stressors. In the study, men reported receiving more emotional support from their partners and women more tangible support, such as help with tasks. Another finding was that women had higher self-esteem than men did during the woman's pregnancy. Self-esteem is especially important during this time because lower self-esteem can be linked to substance use. Also the study revealed substance abuse was associated with the presence of emotional stress among male participants. For details, visit www.nursingcenter.com.
Earlier Flu Vaccine More Effective in Pregnant Women
In the United States, the flu season can start in October and last until May, but it usually peaks between January and March. Ideally, yearly vaccination should begin in September, or as soon as the year's flu vaccine is available, according to the Centers for Disease Control and Prevention. Dr. Evan R. Myers, a physician at Duke University Medical Center, recently led a study that found the benefits of the flu vaccine wane if vaccination occurs later than November. Vaccinations taking place later in the flu season did not prevent as many doctor visits and hospitalizations, say Myers and fellow researchers.
While the flu usually causes no more than about a week of illness, pregnant women are at higher-than-average risk of severe symptoms that can result in a hospitalization. Women who will be in their third trimester during the peak of flu season are at particularly high risk. However, Myers cautions that flu shots also are important for women who will give birth early in the season or just before it begins. While those women won't be at high risk of complications during the flu season, their infants will be, the study reported. Infants younger than 6 months cannot be vaccinated against the flu, Myers said, but if a mother gets her shot during pregnancy, some of her protective antibodies against the infection will be passed on to her baby. For more information, visit the American Journal of Ob-Gyn at www.ajog.org.
Measles Making a Comeback
After being declared eradicated in the United States in 2000, the largest outbreak of measles in 15 years has occurred. Measles is being spread by unvaccinated travelers who go abroad and bring the disease home. Since January of this year, 118 cases of measles have been reported in the United States, says the Centers for Disease Control and Prevention, nearly twice as many as were reported in all of last year. Ninety percent of this year's patients were unvaccinated and more than 40 percent had to be hospitalized. Most the patients who acquired the disease had traveled in Western Europe, which is experiencing thousands of cases of measles.
Babies under 1 year of age are most vulnerable to the disease. More than half the children under age 5 who had measles had to be hospitalized. Current recommendations are for the first vaccine at 15 months, but now the CDC is recommending it for younger infants if they will be traveling abroad. Though some parents have concerns about the safety of this vaccine, nearly two dozen studies have failed to find a link with measles vaccine and autism, according to Dr. Paul Offit, chief of Infectious Disease at Children's Hospital of Philadelphia. Get more information at www.cdc.gov.
Katherine Kopp is a Chapel Hill freelance writer with a special interest in health and medicine. She and her husband are the parents of three daughters.