Family Dining: The Roasting Company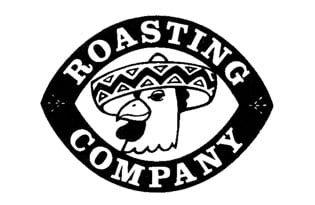 Tucked in restaurant row on Montford Avenue is The Roasting Company. The restaurant's signage with a big chicken wearing a sombrero showcases their specialty, rotisserie chicken, but that's not all that's good. A long list of sides, including green beans, collard greens, squash casserole, black-eye peas, macaroni and cheese is a Southerner's delight. Black beans and rice, their specialty tangy Jaco sauce, and queso sauce add a touch of Latin spice to the menu.
The "chicken and hog plates" are served with two sides and cornbread. Chicken and hog plate choices, include a quarter or half rotisserie chicken, chicken on rice, chicken on rice with queso or jaco pork on rice, to name just a few. Large portions make it filling, or easy for kids (or parents) to share.
On my family's visit, my 2-year-old and I easily shared a quarter rotisserie chicken dinner with black-eye peas, squash casserole and a corn muffin. The chicken was juicy and tender, and all the sides seasoned just right – not too salty, but not too bland. The cornbread muffin was moist with just a touch of sweetness, making it a nice treat on an otherwise savory plate of food.
My husband opted for the Jaco Pork on Rice, which is roasted Boston butt, chopped and mixed with the restaurant's signature Jaco sauce and served over herb rice. The meat is tender with a nice spicy-tangy flavor combination.
There are daily specials each week, including chicken-and-dumplings each Thursday. Also on the menu are salads, wraps, sandwiches and tacos, and wings. There is a kids' menu, that includes rotisserie drumsticks, a chicken soft taco, hotdog and cheese quesadilla.
It's a non-fussy place. You order and pick up your food at the counter, and get your own drinks. Wooden-bench booths and basic tables make it a comfortable place for families with little kids who may make a mess, or families on their way home from a game or sports practice. With the smorgasbord of food on the menu, it's also a great take-out option for weeknights. A menu of party packs also makes it good an easy Sunday lunch with the grandparents or grub for watching football with friends.
THE CHOW DOWN:
The Roasting Company
1601 Montford Drive
Dollar Deal: $2.50-$8.50
Décor/Atmosphere: Comfortable and casual
Amenities: High chairs, changing table
Got Milk/Juice: Yes
704-521-8188
http://roastingco.com
?