Family Dining: Koishi Sushi Bar and Fine Chinese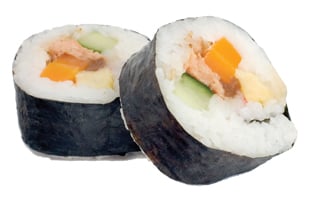 Sushi Greets Stir-Fry
If you love sushi, but others in your family prefer stir-fry and fried rice, Koishi Sushi Bar and Fine Chinese is a good option for bringing two Asian cuisines to one table.
Koishi is an unassuming restaurant (an old Pizza Hut converted) on Sharon Amity Road, near Cotswold Shopping Center. My family stopped in on a Monday when neither my husband or I felt like making dinner. I was pleased to find an uncrowded, quiet dining space with big booths suitable for my bouncing toddler when he got tired of being in his high chair.
The menu is loaded with sushi specialty rolls and nigiri. We are fans of the Hot Lover (scallop, masago, tobiko and spicy sauce) and Cherry Blossom (tempura shrimp, spicy tuna, avocado in soy paper with a special sauce). Even our little guy gobbled up the sweet scallop rolled with its tangy, spicy sauce, of course dipped in soy. Which brings me to sauce: toddlers love sauce!
In addition to dipping sushi in soy sauce, he enjoyed dipping steamed dumplings in Ponzu sauce. It kept him entertained while waiting for the Szechwan Chicken with vegetables to round out the meal. The Chinese portion of the meal was on par, with the usual mix of baby corn, broccoli, onion and red pepper and a sweet, tangy sauce, and was not too oily.
The cost of the meal adds up when you order sushi and entrees, but it's a nice place to go when you crave sushi, but need something else for kids or adults who don't do the sushi thing. Servers are pleasant and the food arrived at the table fast, which is something we value with our smallest diner's limited attention span. It's a big menu with lots of choices, but not overwhelming. It's also a great place to get take-out on a weekday after a swim meet or on the way home from work.
THE CHOW DOWN
Koishi Sushi and Fine Chinese
120 N. Sharon Amity Road at Cotswold
Dollar Deal: Nigiri $3-$4.50; Sushi rolls, $4.50-$12.95; and fried rice and noodles, $6.95-$9.50; and entrees, $8.95-$13.95
Décor/Atmosphere: Zen
Amenities: High chairs and boosters
Got Milk/Juice: Lemonade
Phone: 704-442-9886
Website: www.koishicharlotte.com