Family Dining: Killingtons Restaurant & Pub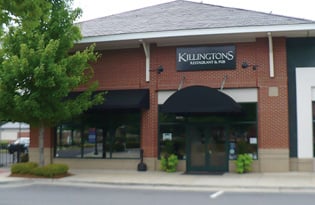 I drive past Killingtons in the Rosedale Shopping Center Huntersville on a regular basis, but I never thought about taking my family there for a night out because I thought a restaurant built around a pub theme might not be very kid-friendly. I couldn't have been more wrong.
The hostess greeted us at the front door warmly and immediately asked if we wanted paper and crayons for the kids. The suggestion was very well received.
The eatery features a large, open space filled with wooden tables, booths and full-service bar. The walls are painted neutral tones of burgundy and tan, and he hallway leading to the restrooms is covered in drawings from the littlest patrons. Five flat-screen televisions keep diners up to date on the latest news and sports.
The menu features appetizers, pasta, seafood, steaks, salads, hot sandwiches and burgers. My husband opted for the Killingtons Dip, a slow-cooked beef round topped with provolone cheese and served with au jus and a side of French fries. I considered ordering the Steak Salad, topped with 6 ounces of beef and crumbled blue cheese, but the Mushroom Ravioli served with peppercorn alfredo sauce and topped with asparagus and goat cheese won me over. It proved to be a filling and excellent choice. Neither of us ordered the Sweet Potato Corn Hash as a side, but friends applaud it with gusto.
The children's menu has enough variety to satisfy almost any child. Our 6-year-old daughter chose a hot dog with chips, and our 4-year-old son sampled the hand-battered and plump chicken fingers with a side of fresh fruit. There is even a notation on the menu that parents can request children's entrees to come out first, if necessary.
Our server was friendly and prompt and complimented our kids on their drawings at one point while delivering our food. We ordered two brownie sundaes to split at the end of the meal, and they were so large just one could have fed the four of us.
Pleased to have found an affordable restaurant so close to our home, we look forward to sampling more of the menu on our next visit.
The Chow Down
Killingtons Restaurant & Pub, 10010 Rose Commons Drive, Huntersville
Dollar Deal: Salads $4.25-$9.50, sandwiches and burgers $7.25-$9, entrées $10.25-$19.25
Décor/Atmosphere: Comfortable and spacious
Kids' Menu: Hot dog, cheeseburger, grilled cheese sandwich, pizza pita, pasta with marinara or butter for $2.75-$4.25; drink included.
Amenities: High chairs; changing stations in restrooms.
Got Milk/Juice: Milk
Phone: 704-948-3770
Website: www.killingtons.com