Family Dining: Fern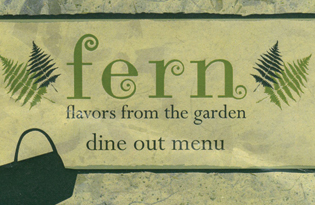 Vegetarians often struggle to find great options for dining out, but the recently opened Fern restaurant is making it easier. Fern, located on Central Avenue in Plaza Midwood (formerly Something Classic Cafe), serves vegetarian and vegan small plates, salads, sandwiches, and entrees, as well as freshly prepared juices, for lunch and dinner.
I am not a vegetarian, but I don't shy away from vegetarian meals. Most often they are prepared with ingredients I don't always have in the kitchen that bring out new flavor profiles. This is the case with the dishes we tried at Fern. We started with the Goat Cheese Cannelloni that is stuffed with a house-made goat's milk ricotta, butternut squash puree with sage, spiced almonds and unfiltered olive oil that had a silky texture and balanced flavors. The homemade whole wheat pasta was delicate and delightful.
Next up was the Sweet Potato Gnocchi topped with a spicy tomato curry, neatly diced roasted vegetables and toasted cashews. The spicy curry was unique and very tasty. I had hopes my toddler might like the cannelloni and gnocchi, but I think the Indian/Mediterranean combination of flavors was too much for his developing taste buds. A better option to share might have been the Pot Pie filled with zucchini, mushrooms, carrots and chickpeas in a homemade buttery croissant crust.
We also sampled the Mushroom Farro "Risotto," made of wild mushroom and tofu ragu, with toasted walnuts and carmelized fennel. The tofu was a perfect texture – not too mushy or tough.
The highlight of the meal for our little one was the Violet Bliss juice drink, consisting of pomegrante, agave and lemonade. Many of the juice drinks are made with fruits and vegetables, and some use almond and coconut milk – a delicious way to get a dose of your daily veggies and vitamins.
The servers were extremely accommodating to our son, but overall the ambience and flavor profiles of the food were a bit much for our little guy. It is suitable, however, for a family with older kids who are interested in expanding their palates or who choose to be vegetarians.
The Chow Down
Fern, 1323 Central Ave.
Dollar Deal: $6-$14: Juices, $6
Décor/Atmosphere: Simple sophistication
Amenities: No changing station in restroom; no high chairs
Got Milk/Juice: Juice
704-377-1825
Fernflavors.com