Family Dining: Common House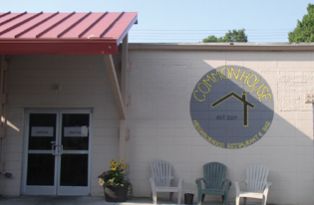 Common House is a neighborhood restaurant with a casual atmosphere — great for when you want to grab a quick lunch, watch a Panthers game, or take the extended family out for dinner. Located on the edge of Plaza Midwood, the eatery is a large, open space with a partition separating the bar from the main dining room.
The Southern-influenced menu includes a multitude of appetizers, salads, sandwiches, burgers and entrées. Fried-green tomatoes, pimento cheese fries and BLT deviled eggs highlight the appetizer selections, but are balanced with salad choices. The Central Salad, made of Bibb lettuce, green tomato, Gorgonzola cheese, crispy smoked bacon and house vinaigrette, is remarkably refreshing on a hot day.
Entrées include a smattering of beef and pork, chicken, seafood and vegetarian dishes. The Half Rack Ribs is fall-off-the-bone tender and dressed in a sweet, thick sauce, with a choice of fries, or baked beans and coleslaw. The coleslaw has tang and a touch of bleu cheese, which balances the sweetness of the ribs sauce. The Beer Battered Fish and Chips is heavily breaded and chunky, but pairs well with one of the many microbrews available.
The burgers are consistently good. The 1101 Burger, basted with steak sauce and topped with bleu cheese crumbles, caramelized onions, lettuce, tomato a chipotle mayo, melts in your mouth. There's also a long list of sandwiches to choose from, including Pulled Pork, Grilled Steak and a Veggie Sandwich piled high with grilled zucchini, eggplant, onion, Portobello mushrooms, tomato and melted mozzarella cheese.
Servers are courteous and prompt. Our server was kid-friendly and entertained our 10-month-old by frequently visiting the table to "talk" to him. Both seemed to enjoy the banter. The children's menu, for ages 10 and younger, includes the classics, such as grilled cheese and chicken tenders. Kids eat free Saturdays, well sort of — one free kid's meal with each regular entrée ordered. Brunch is served Sunday, 10 a.m.-2 p.m., and includes a special menu just for kiddos.
— Michele Huggins
The Chow Down
Common House, 1101 Central Ave.
Dollar Deal: Entrées $8-$13; burgers $8-$10; sandwiches $5.50-$8
Décor/Atmosphere: Homey and spacious
Kids' Menu: $5 chicken tenders, grilled cheese, grilled chicken, mac and cheese and PB&J with a side and drink.
Amenities: High chairs and diaper-changing station in the bathrooms
Got Milk/Juice: Milk
Phone: 704-332-1010
Website: www.charlottecommonhouse.com